Innovation & Creative Thinking for the Entrepreneur's Toolkit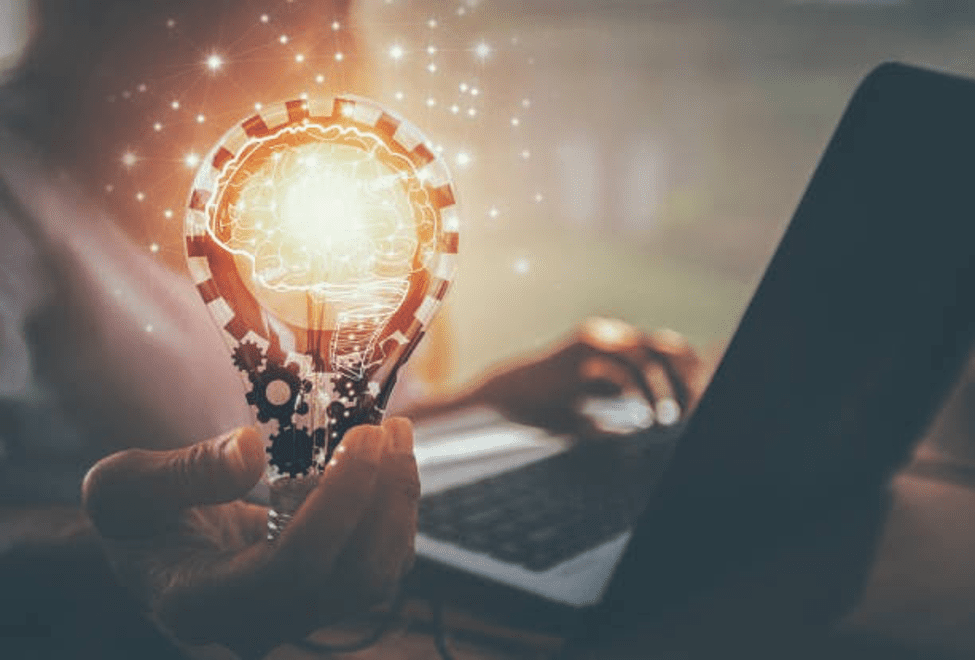 By Megha Goel
Creative people are often described as disruptive, unpredictable, chaotic, or dramatic. But are these qualities so very bad, or are they the exact ingredients needed for success in life, business, and career? 
"Innovation and creativity, if done right, is this box of a thousand million chocolates and if you play the game hard enough and long enough the statistics and probabilities will work in your favor," affirms Entrepreneur, CEO and academic Mukesh M Patel, at "The Innovation Lab: Innovation, Creativity & Entrepreneurial Thinking Masterclass" hosted by AMA New York. 
Patel describes his unique course as a concept that engages students to think BIG, from starting up to scaling up. "It's a concept that starts with transforming fluid ideas to solid ideas to an actual innovative product or service and then creating a business model that is disruptive or scalable to finally transforming it into a venture," he added.  He offers refreshing ways of creative thinking through interactive visual simulations and case studies of innovative brands. Furthermore, Patel outlines the essential tools and mindsets required to succeed as an entrepreneur. 
Unleashing the creative and innovative potential
While creativity and innovation are interlinked to success, Patel discusses how each of these relates to the entrepreneurial spirit. Citing the definition by NSF, he describes 'creativity'  as the introduction of new variables, novel concepts, and connections. Creativity is connecting dots to synthesize new concepts and executions. Innovation, Patel says, "[is] the implementation, adoption, and transfer of creativity."  Creativity is the fuel that produces tangible outcomes, and innovation is a subset of creativity. 
Patels also talks about 'serendipity' as a powerful tool for creativity in entrepreneurship as most entrepreneurial ideas seem to be recognized as they appear rather than being sought out. 
The Big Idea To Commercialize Innovation
Innovation is the unrelenting drive to challenge the status quo.  In so doing, innovators must inevitably break away from the usual way of doing in order to reinvent.  Patel's 'big idea' offers a fascinating algorithm to commercialize innovation, from breaking the status quo to ideation to reaching the end goal: commercializing. 
From his perspective, everything begins with a thought. Thoughts through constant ideation turn into ideas by applying innovative and creative thinking. Testing the ideas through research & development leads to proof of concept or MVP. Execution through entrepreneurial and intrapreneurial thinking yields results for the outcome, ultimately with the application of data. By repeating the loop a million times at breakneck speed in an agile way, the innovation is ready for commercialization. Each time the loop runs, the critical roles of research & development, data, and feedback facilitate the refining of the product/idea. 
Patel believes that it's not enough for entrepreneurs to have an idea; the idea must fulfill the purpose of relieving a pain point for others. Circling back to his definition of innovation, Patel concludes with the  'expert generalist' theory. "Become an expert in two or three areas but then look at everything from different industries to build peripheral vision," he adds.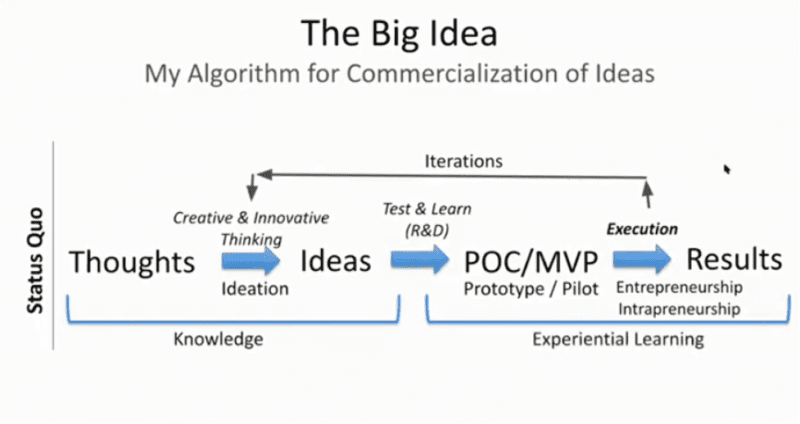 Imagination Is More Important Than Knowledge
As a professor at Rutgers, Patel cites an example from the current education system of rote learning and regurgitation. He points out that incorporating experiential learning or agile learning is more important than knowledge. Knowledge, he says, is limited, while experiential learning has no boundaries."If we want to disrupt or innovate education, we have to break down the silos of traditional thinking and start creating this interdisciplinary approach because that's what the real world of innovation looks like; diversity of thoughts and diversity of experiences," he adds.
Patels advocates the power of imagination, recommending Disruptive Mindset, Think Bigger, Shoe Dog, and The Hard Thing About Hard Things.  "Do not underestimate your power of imagination, creativity, and innovative thinking," he adds. "It might seem daunting in the beginning, but if you surround yourself with the right people who can help catalyze, you can do phenomenal things."
100 ideas in 100 minutes! Patel throws an exciting challenge during the interactive virtual masterclass to develop 100 ideas in 100 minutes over 24 hours. Take the challenge to unleash your creative potential and innovative thinking. 
For more conversations on marketing and innovation, tune in to amanewyork.org.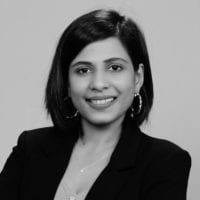 Megha Goel is a professional digital marketer with a focus on content creation and social media marketing. As an AMA New York volunteer, Megha serves on the Executive and  Networking programs, creating copies for post-event blogs, social media, and email marketing. You can connect with Megha on LinkedIn.