Marketer's Toolkit Workshop
November 12, 2020 at 12:00 pm

-

1:00 pm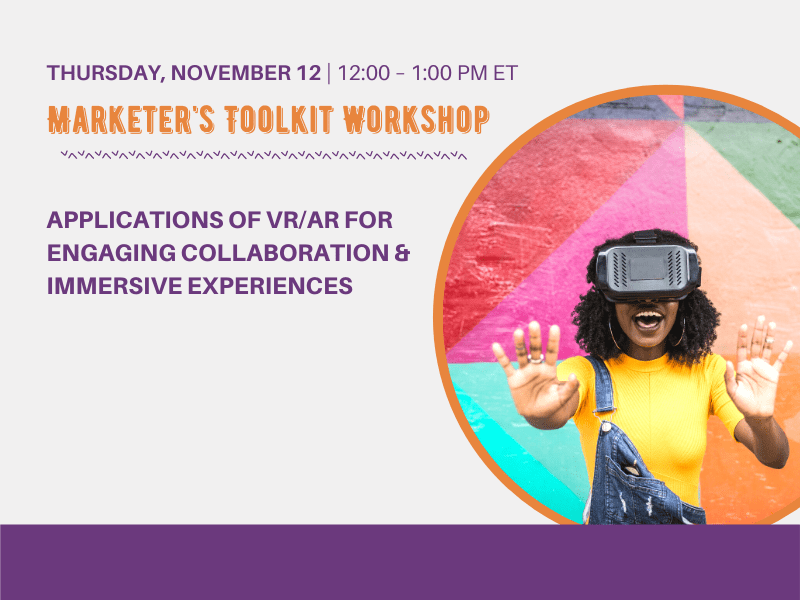 Applications of VR/AR for Engaging Collaboration and Immersive Experiences
We've heard the hype about virtual and augmented reality technology, but how can brands leverage these tools today? From international trade shows to Burning Man, thousands of people have already been immersing themselves in augmented digital worlds to collaborate and share in exciting ways that must be experienced to be believed.
Meanwhile, employees who are now suddenly working from home may be in need of these opportunities more than ever. How can your company take advantage of VR/AR to help recreate in-person environments so your teams can adapt and bring audiences into a virtual space? 
WHAT YOU'LL LEARN:
Latest technological advances in VR, AR, and

virtual environments

in the event space

Ways XR can play a role in achieving event objectives as a piece of the larger puzzle

How immersive tech can drive engagement and action of audience and customers

Capabilities that are achievable today, and pitfalls to avoid

Virtual one-on-one collaboration tools for employees

How major brands are using VR to collaborate in real time, reducing the need to travel while keeping everyone on the same page
WHO SHOULD ATTEND:
College students to director-level marketers

Event planners looking to incorporate VR/AR best practices

Employers interested in VR/AR trends
Join AMA New York and VR/AR Association NYC Chapter President Gordon Meyer as he offers a pragmatic view of what's possible and accessible to brands now, and what to expect in the near future.

Event Partner: VR/AR Association NYC
Given that New York City is a metropolitan hub for national and international businesses, institutions, and organizations, the VRARA NYC chapter represents the coming-together of brilliant minds all over the VR/AR ecosystem, from original content creators and creative distributors to innovative hardware companies and ambitious researchers. Also, VRARA NYC works across the globe with other VRARA chapters, giving you world-wide reach and potential.

Premier Partner: GreenBook
GreenBook is a media company that provides resources to market research, consumer insights and marketing professionals. Through resources such as IIeX Events, GRIT Reports, and other publications, webinars, the GreenBook Blog, and the GreenBook Directory, GreenBook provides the learning and inspiration insights leaders need to stay ahead of the curve.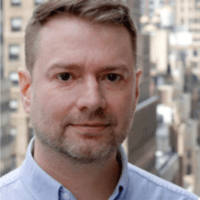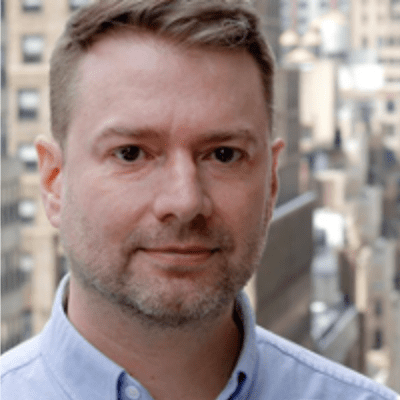 GORDON MEYER
Chapter President
New York, The VR/AR Association (VRARA)
Gordon Meyer is a 20+ year industry veteran in the advertising and marketing field with a wealth of experience working at disruptive companies, including SiriusXM, J. Walter Thompson and Razorfish. In 2018, he formed EngineBloc, a startup growth studio powering high-potential tech startups seeking funding and revenue expansion. That same year, he was named one of the "30 people to watch in Augmented Reality" by Next Reality News. In 2019, Gordon became the NY Chapter President of the VRARA, an international organization designed to foster collaboration between innovative companies and people in the VR and AR ecosystem. Additionally, he partnered with Columbia College Chicago Online to develop and teach "Blockchain for Business" for Fortune 500 executives seeking breakthrough innovation.