Women in Marketing Series – Take Your Seat at the Table: Leadership Strategies for the New Decade
January 21, 2021 at 12:00 pm

-

1:00 pm

Free
The 2020 Women in the Workplace report has shown that women remain dramatically underrepresented in leadership positions for yet another year. To provide strategic guidance for women striving for professional advancement and recognition, AMA New York is delighted to host the next installment in its timely and popular series featuring dynamic women who are breaking through the glass ceiling, taking their seat at the table, and redefining marketing.
Young Mi Park, adjunct lecturer at Columbia University and Rutgers Business School, interviews featured marketing experts about navigating their careers, developing their own unique leadership styles, and so much more. After the interview, don't miss the opportunity to participate in a 15-minute "Ask Me Anything" live session where you can pose questions to the speaker and score career inspiration for your next bold professional move.
Why join this event:
Get an inside look!

Discover how a CMO got to where she is — and what's on her mind at the start of a new year, new decade.

See the forest for the trees!

Gain a bird's-eye view from the C-suite about the evolution of marketing at large, as well as the marketing roles within.

Glean the good stuff!

Gain insights and deep dives into leadership styles, brand (and marketer) survival through the pandemic, and skill-building.
Margaret Molloy, speaker
Margaret Molloy is Global Chief Marketing Officer at Siegel+Gale, the strategic branding consultancy. Known as "The Simplicity Company," Siegel+Gale works with the world's leading companies to define, design, and deliver brand experiences.
A popular CMO panel moderator and consummate connector, Margaret is host of the podcast, "How CMOs Commit," and creator of the LinkedIn newsletter of the same name. For her contributions to the global marketing community, Margaret was awarded the prestigious fellow of The Marketing Society (2020) and B2B Marketer of the Year by The Drum (2017). Recognized as one the most influential CMOs on Twitter, she has also published in Forbes, Harvard Business Review and elsewhere.
A native of Ireland and Manhattan resident, Margaret is the creator of #WearingIrish, a passion project that has become a groundbreaking platform telling the untold story of Irish fashion design. She serves on various non-profit boards.
Margaret has held leadership roles at Gerson Lehrman Group, Siebel Systems and Eircom.
Margaret earned her MBA from Harvard Business School and her undergraduate degree from the University of Ulster and La Universidad de Valladolid, Spain.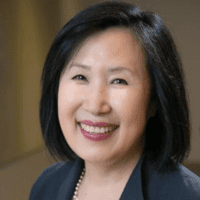 Young Mi Park, host
Young Mi Park's background spans three continents and diverse industries – consumer, education, government, advertising, media, and technology. She has held leadership roles with brands such as American Express, Burger King, and Levi Strauss; education companies, such as Sesame Workshop and Nations Academy; and technology and new ventures. She became the third woman advertising account executive in Korea and, later on, the first woman head of a foreign industrial subsidiary.
Premier Partner: Greenbook

GreenBook is a media company that provides resources to market research, consumer insights and marketing professionals. Through resources such as IIeX Events, GRIT Reports, and other publications, webinars, the GreenBook Blog, and the GreenBook Directory, GreenBook provides the learning and inspiration insights leaders need to stay ahead of the curve.