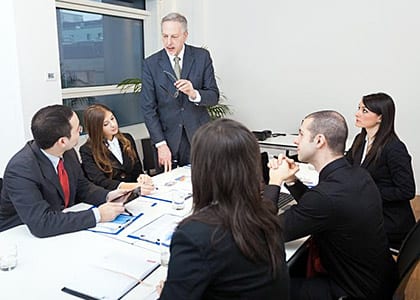 The American Marketing Association New York needs marketing committee volunteers. Our committees are the backbone of our organization. Entirely volunteer-run, we depend on the creativity and energy of our membership across these key areas:
Insights
The Insights Committee provides strategic and tactical research learnings about current and prospective members to help inform and guide chapter activities. These insights are gleaned through a number of market research techniques, including online surveys, in-depth interviews, focus groups, and social media mining.
Marketing Communications
The Communications Committee is responsible for creating a flow of information about the AMA New York to current and potential members and the media. Communications uses a mix of traditional PR techniques, social media platforms and collateral materials to support our events, news and initiatives.
Membership
The Membership Committee is responsible for expanding our marketing community and ensuring members take full advantage of chapter benefits. This committee also manages member-only events including Shared Interest Groups and manages the Volunteer Program.
Programming
The Programming Committee is responsible for developing, planning, and promoting a full calendar of AMA New York events that provide professional development and networking opportunities for the New York Tri-State marketing community. The committee coordinates a variety of monthly events with sponsoring companies.
Assistant Director, Membership Acquisition
We're looking for someone super smart and talented that wants to master the art of persuasion – marketing persuasion that is! Work with the Director of Membership Acquisition and Membership Committee to attract new members in three categories: students, groups, and professionals through a mix of email marketing, social media, events, and whatever interesting strategies you can dream up.
If you believe in marketing, want to build an awesome team and have the chops to capture the attention of marketing professionals from colleges to major corporations, then we need to chat today! Contact us.
Coordinator, Student Member Acquisition
Make AMA New York a household name in your area. Coordinators work with the Membership Committee to recruit new members within a targeted region of New York, develop local campaigns to attract new members, attend collegiate AMA and AMA New York events, and manage college-level ambassadors. Coordinators are needed for each NYC borough, Long Island, and Westchester County. It's a great resume booster and an awesome way to meet new people. Contact us.
Ambassador, Student Member Acquisition
Serve as a brand ambassador at your college to drive membership recruitment. In this role, you'll recruit new student members to AMA New York by attending events, walking students through the membership process and encouraging them to attend chapter events. You can even host your own AMA New York supported events on your campus. If you're creative, professional and simply love the field of marketing, come put that energy to work for AMA New York! Contact us.