Photo by Daria Nepriakhina on Unsplash
By Megha Goel
Chief marketing officers and other heads of marketing are the expected leaders of change, responsible for driving business growth, martech innovation, customer experience, and shaping the brand's messaging and position. The role of CMOs was in an ever-evolving state before the pandemic. Enter new demands on transformations and challenges in marketing. What we then thought was a temporary change we now see will have a far-reaching impact. As we settle into the next stage of 'normal', what can we expect in 2021? How do we plan? 
AMA New York's on-demand video content series, "The Future of the CMO: Beyond Changing Roles: Season One," delivers big on fresh insights and thought leadership from four brilliant marketers. We spoke with these CMOs asking them to peel back the cover on what differentiates top marketers, how they met unprecedented challenges, and what's the road map forward. The series offers frank opinions, observations, and predictions based on hard-won marketing lessons from the very best. It provides value for any marketer who can use inspiration and value practical insight. 
Want to hear about this from them?
Get instant access to the entire series of video conversations for The Future of the CMO: Season 1 – Beyond Changing Roles.
Agility and flexibility are paramount.
Today's CMO must expect and anticipate disruption and even crises. They agree that it's all about the pivot. As B2B Marketing Veteran and CMO for EKA Software Solutions, Nancy Pearson shares, "Marketers don't have a choice anymore." It's not enough to simply have a plan in place and execute it. The pace of change is likely to continue, and the ability to pivot is critical. Nancy, who has had a front-row seat to the digital disruption of many business sectors, including IBM, recommends continuous education for teams and leaders, and simple outside resources that support personal and professional growth. Yet, she also believes that many marketing fundamentals have stayed the same. She notes it's essential to have a solid foundation of core skills –  branding, leadership, teaching, mentoring, team-building, and the all-important ability to innovate. Above all, a CMO must educate and elevate talent to prepare for what's around the corner.
Joanna Seddon, CEO, Presciant, and AMA New York Board member, agrees. "Successful brand marketers during and after the pandemic must react quickly to change, do many things at once (and within constrained budgets), and experiment, test, and learn. They must take risks and tolerate failure. This is a time where innovative marketing can rise. For years, we've talked about being agile, and now people have to do it." According to Joanna, some marketers got distracted by social and digital media and neglected the brand's inherent value. Moreover, the brand value equation was thrown off by the rise of performance marketing, which focuses on quick and easy to measure. "It's easy to count clicks. It's less easy to count brand, but I think there is an increasing recognition that brand value is not just about big ad campaigns," she explains. "It's the external expression of business strategy. It is the expression of why a company matters."
Continued acceleration of digital transformation & personalization
Marketers predict the continued acceleration of digital transformation and greater personalization in marketing. Geoff Colon, Head of Microsoft Advertising Brand Studio, shares that changed customer behavior also translates into making sure organizations are set up to respond to seemingly simple adaptations. Talking about the trend to BOPUS (Buy Online Pick Up In-Store) has implications for tracking, warehousing and distribution, and back-end infrastructure. Among the many changes wrought by the pandemic, brands also need to be more geo-specific. Some states offer products and services unique to their geographic customer base, significantly as COVID rates vary regionally.
Leveraging Automation Of Data & Human Intelligence To Drive Growth
Another trend that markers swear by is the automation of tasks previously directed or performed by a team. Data collection may be automated, while humans will still interpret the insights resulting from the data. Geoff Colon believes, "An ideal marketing team needs someone who understands data intelligence, but also one who knows how to pull out the human implications." When asked how businesses can cope with the loss of physical contact with customers and prospects, he foresees a range of innovations that rely on technology and creativity. "How do we make a video sales call feel more human?" he asks. He predicts the innovative use of Livestream technology to educate customers at scale about goods and services. A form of "webinar meets event meets Livestream" will replace physical tentpole events like trade shows, for example.
Rethink Marketing As Empathetic Customer Experiences
Data-driven empathy will help engage and deliver a personalized customer experience. This is going to be the prime driver of a marketer's success. Jim Walsh, SVP of Growth Marketing at Cisco, shares how his team delivered exponential growth by acting on a 'treasure trove" of previously unused customer data insights. He defines his growth marketing strategy as a continuous loop of constant interactions with all customers, channel-wide. Jim ascribes his explosive growth to his successful sales background, giving him a unique perspective to understand marketing. "We were sitting on a treasure trove of information which I would have loved to have while I was in sales," he says.
According to Geff Colon, "marketers are the voice of the customer in the boardroom. And they bring a lot of that guidance to the rest of the C-suite."  
Indeed, doubling down on data-driven insights, focusing on digital transformation, and maximizing customer experience are the key priorities of standout CMOs. Joanna Seddon agrees when she says, "marketers need to return to the original premise of marketing." She defines this to be "about everything that contributes to driving future sales and profits within the organization through the customer's lens."
Brands will need to be clear on their values.
"Marketers who succeed will do well to live the values of their brand," says Joanna Seddon, CEO, Presciant Brand Strategy. She sees higher expectations of brands and brand marketing since protests swept the country in the summer of 2020. Seddon predicts that there will be no more tolerance for companies that do not live their values. "There is no patience for companies who just mouth platitudes, who do not put their actions where their words are," she asserts. "Companies are judged by a higher standard than in the past, and that includes how they treat employees and communities, how they think about health, how they deal with diversity and inclusion, and how they are authentic in what they say and what they do."
Discover more red flags for CMOs in Joanna's The Future of the CMO: Beyond Changing Roles here.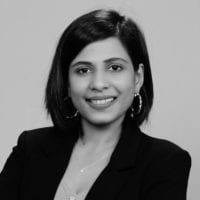 Megha Goel is a professional digital marketer with a focus on content creation and social media marketing. As an AMA New York volunteer, Megha serves on the Executive and  Networking programs, creating copies for post-event blogs, social media and email marketing. You can connect with Megha on LinkedIn.