Successful People Never Reach Their Goals Alone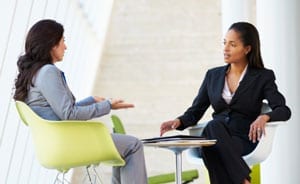 Accomplished leaders share a trait in common: they build and maintain an "inner circle" of mentors, coaches and advocates to help them every step of their way. Regardless of your level, mentorship is critical to your ability to see beyond yourself, to find clarity of purpose, and to be challenged to exceed your self-imposed limits.
With marketing, technology, and business changes accelerating, mentor relationships are more important than ever. What's more, mentoring has never been more of a two-way street. Less experienced marketers often have the pulse on new technology, while mentors have the wisdom born from years of trial and error.
THE PROGRAM
The AMA New York Mentoring Program connects AMA Members with 5 or more years of experience with highly experienced marketing professionals. Coming in 2021, we plan to also connect marketers with less than 5 years experience with mentors as well, so watch this space.
In turn, mentees should be ready to add value to the relationship, by sharing their own expertise with their mentors.
PROGRAM LENGTH
The program starts in October, and runs through Spring. The matching period typically opens up in the early summer, and closes when the current cohort is announced in October.
TIME REQUIREMENT
Each participating mentor and mentee commits to work together for the entire eight-month. Participants are required to interact at least once a month. Each relationship will be different, but we recommend a minimum of 1 hour per month spent. Your first meeting must be within 2 weeks of the Program kickoff to create the relationship, and set goals and expectations. After the first meeting, interactions may take place through in-person meetings, emails, video chat or telephone call.
Seasoned Professionals
Motivate. Advise. Inspire.
Give your roadmap to success a new meaning and purpose as a thought leader and influencer. Become an AMA New York Mentor today.
Applications for the 2020-2021 Mentor Program are now closed. The 2021-2022 Program applications are expected to open around May 2021.
Testimonials
"We actually happened to meet just before a job interview, and I ended up getting the job. The meeting was very helpful to prepare!" – Mentee
"I really am delighted to be part of this mentorship initiative. I really do think that my views on life in our world were helpful."
– Mentor, 60 years marketing experience
General Policy
The AMA New York welcomes AMA Members associated with the New York Chapter to participate in the Mentoring Program.  Mentor and Mentee qualifications and matching will be reviewed by the Mentoring Program Committee. The AMA New York provides equal opportunities to participate in the program without regard to race, color, religion, national origin, gender, sexual preference, age, or disability.
MENTORING PROGRAM FAQS
Why should I participate in a Mentoring Program?
The mentoring program is a connection by which the AMA New York is bringing together marketers of different experiences and backgrounds to help them identify their strengths, improve their performance and establish a roadmap to achieve short and long-term career goals. As a Mentor, you will become linked with a new network of future leaders and marketing innovators and give your experience in marketing new meaning by sharing it with a junior marketer.  As a Mentee, this is an opportunity for you to identify where you can improve and grow as a marketer and achieve future goals that will differentiate your value as you progress in your career.
How much time must I commit to the Mentoring Program?
The mentoring commitment is approximately six to eight months where we suggest a minimum of 1 hour per month spent in sessions.
Do I have to meet with my Mentor or Mentee in person or can it be done online or over the telephone?
Due to COVID-19, we have waived our normal requirement of a minimum of one in-person meeting in the first month. We still recommend you meet virtually with your Mentor or Mentee and learn more about each other's backgrounds. During that meeting, you can discuss the preferred method of communication going forward and how frequently you would like to have sessions. Communication may be commonly achieved with in-person meetings, video chat or telephone call.
What can my mentor do for me?
Your mentor is an experienced marketing professional who can help you make a personal plan and encourage you to take action on it. They will provide you with constructive criticism and best practices for you to make progress on your goals and positive changes for you to consider.  Your mentor cannot make a decision for you, manage your career, or use his or her influence for you in any way.
What if I am not assigned a Mentor? Should I re-apply?
Once you submit your initial application, it will be reviewed by the Mentoring Program Committee to determine if you can be matched with a Mentor.  At times, we may experience an overwhelming amount of applications from Mentees that exceed the number of Mentors available.  If we cannot match you immediately, we will keep your application on file and contact you once we have been able to match you with a Mentor, therefore you do not have to re-apply.
How long should I wait to receive a response on whether a match has been made?
We expect the number of applicants will fluctuate throughout the year, therefore you can expect to receive a communication acknowledging your application is being reviewed approximately 2-3 weeks after your submission and a response on whether a match was made approximately 2 weeks after that first communication.
Is there anyone I can contact if my Mentor or Mentee and I cannot establish a productive relationship?
Our Mentoring Program Committee is dedicated to helping you make the most out of your mentoring relationship.  If you have any concerns that you wish to communicate about your mentoring relationship, we encourage you to contact our AMA New York Mentoring Program Director, Jacques Pavlenyi, at [email protected]
Can I be paired with another Mentor or Mentee automatically at the end of the program?
To ensure fairness to your fellow AMA New York members also interested in the Mentor Program, we will send you an evaluation form towards the end of your program where we will ask you if you would like to re-apply for another program period. If you elect to re-apply, our Mentor Program Committee will review your application as they would with a new applicant to determine if a match can be made.
How do Mentors benefit from the program?
Mentors will experience the rewards of helping another person reach their goals as a fellow marketing professional.  Most important, the Mentoring Program provides Mentors with an opportunity to develop a new perspective, learn about another organization or changes in the industry, gain additional insight into their own paths and values, and go through a reflective process that resembles that of the Mentee. In helping a junior marketer, Mentors often find themselves doing some thinking about their careers as well. While positively impacting Mentees with their guidance and counseling, Mentors are often inspired to become more supportive of similar efforts in the industry or seek mentors for themselves.
What if I know someone I'd like to be matched with?
The AMA New York Mentoring Program Committee has carefully designed the matching process based on several criteria.  For this reason, a match cannot be guaranteed as it depends on the group of applicants as a whole and the ratio of Mentors-to-Mentees available.
I'm new to being a Mentor. Will training be provided?
The AMA New York Mentoring Program Committee is dedicated to providing you a foundation to start your mentoring relationship on the right track.  For those with no prior mentoring experience, a brief training session will be made available to provide you with an understanding of how the mentoring process works and how to make the best out of your relationship.
Are there other programs the AMA New York is offering to members?
The AMA New York is always seeking to provide value to its members. We encourage you to visit the AMA New York website at www.AMA New York.org to explore the marketing resources, events, and content available to members.