Virtual Networking At Its Best – Cocktails In The Greenroom Virtual Event
By Kenyatta Skyles,
AMA New York Volunteer
The AMA hosted a virtual networking event for marketers that set attendance records, connecting AMA members from the tri-state chapters–and beyond. In the midst of the COVID-19 pandemic, it's important for marketing professionals to have opportunities to connect and network.  Weighing on the minds of many marketers are concerns about the short-term and long-term impacts of the pandemic on businesses and consumers. Given that social distancing and staying at home are the new norms, AMA New York rose to the occasion hosting a lively virtual networking happy hour.
Entitled "Cocktails in the Greenroom," the May 7th happy hour event hosted 127 marketers across AMA chapters nationwide in 16 moderated breakout sessions.  With a signature drink in hand — the Greenroom Cocktail or a beverage of the attendee's choosing — conversations ranged from appropriate messaging during the pandemic and customer retention to new ways of doing business virtually.
An impressive lineup of AMA New York moderators led the breakout sessions, including Alda Abbracciamento, Bob Kahn, Craig Charney, Dorothy Crenshaw, Jason Revzon, Karen McFarlane, Kathryn Landis and Young Mi Park. Additionally, an esteemed cohort of leaders representing other AMA chapters included: David Ross (Nashville), Dina Dvinov (Boston), Jen Faucon (Boston), Joy Levin (D.C.), Magdalena Axtell (Omaha), Mari Considine (New Jersey) and Mark DeVito (D.C./Baltimore).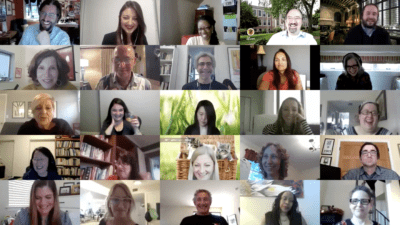 One highlight from the event, executed in partnership with GreenBook, was the number of marketing professionals interested in joining AMA New York. For some, this was their first time attending an AMA New York event and they expressed interest in participating in fun activities like the virtual happy hour and felt the conversations were beneficial and insightful.
Here are four common themes and takeaways from the moderated sessions:
Learning new professional skills keeps marketers current with industry insights and creates opportunities to expand professional networks.
Companies who take customer-centric approaches by checking in with their customers to understand their needs during the pandemic are doing better than those focused only on the business.
Innovation versus adaptation has made the difference between companies able to thrive and those that have endured massiv3 layoffs and cuts.
Consumers are focused on their immediate needs. This presents marketers with the question, how can they capture consumer engagement without inundating consumers with too much information?
By going with virtual networking, marketers had the opportunity to connect, find commonalities, share ideas and discuss pressing industry-related questions with fellow marketers from across the country — all from the comfort of their own homes.