By Michelle Chiantera
Board Member for AMA New York and
Vice President, Americas Growth Marketing for Cisco
Working remotely has been a growing trend in recent years. With the onset of the COVID-19 global pandemic, enabling entire populations to connect from home has become a necessity. The working-outside-the-office trend has grown exponentially. While half the world is now connecting remotely to their day to day jobs, this movement will no doubt remain a mainstay of working culture in the post-COVID-19 period. As habits evolve, technology is keeping pace and, in some ways, leading the evolution of work.
Two Congruent Technologies for Working Remotely
Companies and employees must address two challenges to work effectively dispersed in multiple locations:
1) Connectivity
2) Security.
It is a challenge to enable your teams to effortlessly collaborate, but also to keep those workflows and conversations secure from outsiders and cyber criminals. Communication must be open and easy, yet also restricted. Getting that balance right is critical.
Connectivity: Open Communication and Easy Collaboration
Companies use a variety of technologies to keep teams connected and productive across time and space.
Meetings: Online meeting solutions facilitate voice and video conferencing of small teams and one-to-many presentations like webinars. Most solutions also offer screen and document sharing, recording services, and transcripts.
Instant Messaging: These applications make asking quick questions as easy as dropping by someone's desk.
File Sharing and Document Collaboration: Other tools make accessing files and working together on creating and editing documents simple and fast..
Email and Voice: Old-fashioned emails and phone calls remain indispensable.
Security: Critical Protections for Working Remotely
The remote work experience can't replace a face-to-face encounter, but with enabling technologies, it can be the next best thing. The challenge is that such interactions must be just as secure. Remote work opens several vulnerabilities if your infrastructure is not properly secured. Cyber criminals look for easy ways to steal data or destroy files and systems. The threat increases if your team is not used to working remotely. During times of stress, cyber criminals thrive in fear, confusion, and disruption.
Technologies that can safeguard your work and data include:
Virtual Private Network: A VPN allows workers to securely connect through the Internet by computer or mobile device. Connections are protected from hackers trying to snoop or hijack data.
Cloud-Delivered Firewall: It isn't always practical or possible to connect over a VPN. Next-generation options work like a firewall in the cloud.
Secure Meeting Solutions: Some easy-to-use meeting solutions have proven to be easy-to-hack as well. Cybercriminals can hijack meeting invitations to "zoom-bomb" as uninvited guests. More sinister are hackers who quietly sneak into meetings to simply listen and gather information. Sharing infected files on meeting platforms is another growing threat. Working with a meeting solution provider that offers rock-solid security is a must.
Encrypted Email and Messaging: Email is the break-in point for 91% of cyber crimes. Protect these vital communications through encryption solutions. Be sure to include regular training and reminders as to the risks of various email exploits like phishing, spoofing, malware, and other frauds.
Two-Factor Authentication: Require both a password and a randomly generated one-use code delivered through alternative channels such as a text or email. Two-factor authentication makes it that much harder for hackers to break in.
Working remotely promises massive increases in productivity at lower costs for many companies. As we navigate our way through challenging times, we continue to re-imagine the possibilities that a highly connected world can create. Effortless connectivity combined with sure security gives companies and remote workers the ability to effectively realize the promise.
About the Author: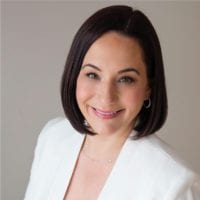 As Vice President of Americas Growth Marketing, Michelle Chiantera leads a team of marketers who are in lock-step with sales to capture market share and accelerate the growth of the Americas region. Her team strives to deliver an amazing customer experience through marketing innovation and cutting-edge technology. Always putting the customer first, she believes in the importance of shifting mindsets to not only incorporate the digital aspect, but to keep the human touch to achieve customer loyalty and be the bridge to possibilities.