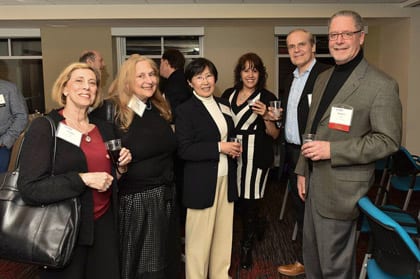 AMA Executive Circle is the American Marketing Association's national network of senior marketing executives. Engage, network and share with an exclusive group of accomplished marketing professionals in a collegial atmosphere that connects top talent nationwide:
Most are current or former VPs, SVPs, CMOs, COOs and Presidents.
84% have Fortune 500 experience.
70% have graduate or post-graduate degrees.
Over 50% received degrees from one of the top 20 Business Schools.
AMA New York runs a regular program of online and in-person events to give you opportunities to network with high-ranking peers, exchange local and industry news, swap ideas and resources, and develop rewarding personal relationships.
Experience the Power of Engaging with Peers
AMA Executive Circle attracts entrepreneurs, seasoned consultants, executives from big brands and professors from prestigious colleges. It's the diversity of our members and their willingness to help each other that make AMA Executive Circle special. Benefits include:
Access to an exclusive group of accomplished and connected sales and marketing professionals
Whether you have a question about branding, need strategies for marketing automation or international distribution, there's a AMA Executive Circle member willing to help you. With 700 members we seek professionals that want to share their expertise, as well as receive invaluable resources, advice and friendship from established executives.
Requests that get you answers from experienced executives–fast
Ask a question and get an answer – fast. Every member must accept requests from other members. It's the power of our collective knowledge that brings innovative ideas to your answers. Get the answers you need, and get them from a trusted and seasoned membership.
Free OneSource and discounted access to resources worth thousands of dollars
Free, 24/7 access to the OneSource database of nearly 1 million companies, most of which have over $5 million in revenues. Companies are from around the world, with 72% in the US, 8% in Canada, 17% in Mexico and 3% outside of North America. Pull a list for a mailing or research a company.
MENG Webinars
Exclusive presentations from today's leaders in sales and marketing. CMO's, pioneers in social media, and more present monthly, from top companies such as HubSpot, Citibank and Forester Research.
AMA Executive Circle Knowledge base
Imagine a library of insightful content from senior executives providing advice and answers on everything from advertising and building a brand to organizational development and business planning. Hundreds of primary thought leaders at your disposal.
Job Opportunities
Recruiters are attracted to our select group of executives and often come to our members, exclusively, to fill positions. But our members also have many connections and post senior positions that are not available through typical channels.
Onesource Company Database of over 17 million companies and 24 million contacts with 8 million emails. Many members say access to this database alone is worth the cost of membership
Partner Discounts for AMA Executive Circle members at the Content Marketing Institute,
The Connected Marketer Summit & Awards, CVENT, Click Z, Enterprise Marketing 360 Virtual Conference, Netshare, MarketingProfs.com, PDMA, MRMW, PrivateEquityInfo.com, PrimeGenesis
Salary.com, The Conference Board, The Conference Board's "Annual Corporate Brand and Reputation" Conference, The Economist and others
Resume Review / Career Advisory Services are free to members
Expertise Library of thought leadership, Q&A sessions and podcasts, organized by topic and searchable
Request Help from members–instant access to the nation's top marketing leaders provide direct answers to your specific questions
Webinars on the hottest marketing topics–with practical, use-right-away advice and tools
Jobs: Find openings reserved for senior level marketers
Communities: Our members are active and engaged–when you are headed to an out-of-town business meeting or conference, you can connect with local Executive Circle members and expand your network.
Volunteer: Opportunities to network and give back as a volunteer are always available.
AMA Executive Circle Social Media or Crowd Sourcing: Join the conversation, add your expertise, raise your profile.