2018 Marketing Hall of Fame Induction Ceremony
May 17, 2018 at 6:00 pm

-

9:00 pm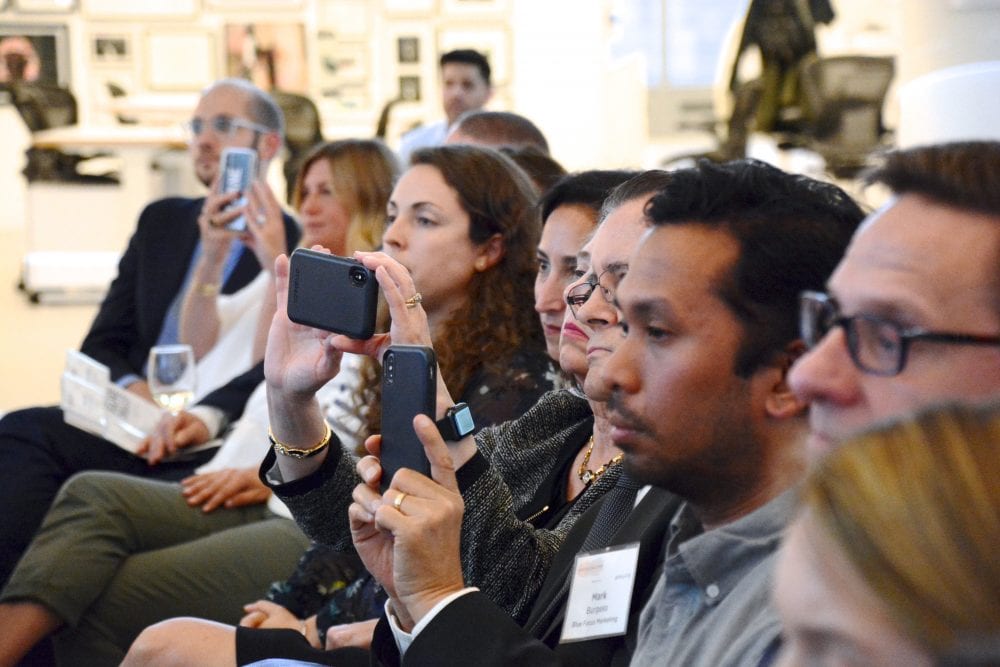 On May 17th, AMA New York inducted three new marketing legends in the only marketing award that celebrates the outstanding contributions made to the marketing profession as a whole.
The induction ceremony began with drinks and food, followed by presentations from our keynote speaker, Brian Collins, Chief Creative Officer & Co-Founder of COLLINS, and each inductee. They shared insights from their exciting careers and most notable successes. Attendees networked with some of today's most important marketers and got a glimpse into each inductee's view of how marketing will evolve in the future.
The 2018 Marketing Hall of Fame Inductees:
Lee Clow, Chairman, TBWA\Media Arts Lab & Director of Media Arts, TBWA\Worldwide
Seth Godin, Best-Selling Business Author and Speaker
Esther Lee, Executive Vice President, Global Chief Marketing Officer, MetLife, Inc.
Keynote Speaker
Brian Collins
Chief Creative Officer & Co-Founder
COLLINS
 Induction Ceremony Ticket Pricing:
Early Bird Tickets- Available until April 23rd
Early Bird General Attendee: $115
Early Bird Current Member of AMA New York: $85
Regular Tickets- Available until May 15th
General Attendee: $125
Current Member of AMA New York: $95
Hors d' Oeuvres and drinks during each of the two cocktail portions of the evening
As a requirement: all attendees must be pre-registered on or before May 15th. Cocktail attire is suggested.
ABOUT THE MARKETING HALL OF FAME
The Marketing Hall of Fame is the only award which recognizes individual marketers (not companies or campaigns) who have made outstanding contributions to the field of marketing. Be they:
Corporate CMOs or VPs of Marketing
Agency marketers: advertising, branding, research etc.
Or, academics, journalists, and other marketing experts
Nominees must have been in the marketing profession for at least 10 years and be a current marketing practitioner. Please visit MarketingHallofFame.org to read more about the inductee selection process.
About Lee Clow
For the past 40 years, Lee Clow has told stories through advertising for some of the most well-known brands in the world. His creative career began with Chiat\Day and its humble beginnings at a hotel in downtown Los Angeles. Today, Lee is the Director of Media Arts for TBWA\Worldwide and the Founder and Chairman of TBWA\Media Arts Lab, which celebrated its 10-year anniversary in 2016. He believes advertising is an art, a media art, that evokes emotion in consumers to make them laugh, cry, surprise or inform and his work does exactly that. Lee's portfolio includes memorable campaigns for brands like Gatorade, Pepsi, adidas, and Energizer. But Lee's impact on the industry can best be summarized by his partnership with Steve Jobs for more than 30 years producing work for Apple. 1984 Macintosh, "Think Different" that evolved into the introduction of the iMac, iPod, iTunes, iPhone, iPad and Apple Watch. Today, Media Arts Lab works exclusively on Apple, breaking barriers and challenging the industry with what he calls the "New Storytelling."
About Seth Godin
Seth Godin is the author of 18 books that have been bestsellers around the world and have been translated into more than 35 languages. He's also the founder of the altMBA and The Marketing Seminar, online workshops that have transformed the work of thousands of people. Seth writes about the post-industrial revolution, the way ideas spread, marketing, quitting, leadership and most of all, changing everything. You might be familiar with his books Linchpin, Tribes and The Dip. Permission Marketing changed direct marketing forever, and Purple Cow is considered one of the most influential marketing books of its time. Seth has given thousands of speeches to millions of people around the world, and his five TED talks continue to spread. In addition to his writing and speaking, Seth has founded several companies, including Yoyodyne and Squidoo. His blog (which you can find by typing "seth" into Google) is one of the most popular in the world. Seth's latest book, What To Do When It's Your Turn is now in its fifth printing.
About Esther Lee
Esther Lee is MetLife's Global Chief Marketing Officer and is a member of the company's executive team. Lee joined MetLife in 2015 and is responsible for managing all aspects of global marketing, the global brand, and the customer journey. Esther and her team lead a strategic, customer-focused marketing practice across the globe that drives business growth. Prior to joining MetLife, Esther was Senior Vice President for Brand, Marketing, Advertising and Sponsorships at AT&T. In that role, she oversaw global brand marketing, advertising, media, and sponsorship, as well as the integration of brand leadership into the company's business strategies. Through the ongoing rollout of the company's "Rethink Possible" brand platform, she led the strategy to create awareness of AT&T's commitment to innovation to allow people to do more, explore more, and live more expansively. Before joining AT&T, Lee served as Chief Executive Officer of North America and President of Global Brands for Euro RSCG Worldwide, where her work focused on transforming the company's creativity and vision for long-term growth. Prior to that, she served for five years as Global Chief Creative Officer for The Coca-Cola Company, where she drove creative strategy, the development of integrated campaigns for the company's global brands, and the operating models to support these efforts. Most notably, she drove the creation, development, and launch of the "Coke Side of Life" global campaign—the foundation for today's "Open Happiness" campaign.
Related Events