Curating Better Experience: The Future of Healthcare Marketing
By Megha Goel
The COVID-19 pandemic has shaken the already complex market of healthcare in the U.S. It impacted the patient care paradigm and, in turn, changed consumers' behaviors and expectations, requiring a significant shift in how healthcare marketing engages with patients. Healthcare companies needed to reposition themselves to become more consumer-centric and competitive.
Coming out of the crisis, embedding transparency about products and sourcing, speed and accessibility, and trustworthiness and reputation will all be business-critical. But, these initiatives have not always been apparent within the healthcare industry. Such recognition was the focus of the healthcare marketing panel on May 6 entitled "Marketing Strategies to Build Customer Trust in the Digital Age." As a continuation of an ongoing initiative, AMA New York organized another cross-chapter vertical-specific thought leadership panel in collaboration with AMA New Jersey, AMA Houston, AMA Boston, and AMA Madison, AMA New York, and moderated by Mari Considine, CMO/CDO of Acenda Health. Industry experts discussed how they maneuvered the shift and what has made them successful during these unprecedented times.
Tech-led Solutions to Promote Personal Health
Increased use of technology will help enable the shift to accessible, affordable, and quality healthcare. Deven Nongbri, AVP of Marketing at HCA Healthcare, points out that it has taken a pandemic, and ironically, the cancellation of the NBA's last season for the general population to take personal health seriously. However, with this concern is renewed interest in personal and public healthcare solutions. Citing an example from the restaurant industry's ability to adopt QR codes and contactless payment technology to curb the spread of the virus, Deven said, "There is a heightened interest in healthcare influencing how people are conducting business in unrelated industries. Most of these technologies were around prior to the pandemic, but because of affordability and portability, and the heightened awareness around cleanliness and hygiene, we are seeing more of that tech in market for a good reason."
Telehealth Is Here to Stay
Telehealth services are one of the key trends that emerged out of the pandemic. As the general population is embracing the new normal, our marketers believe telehealth will become customary. Stephen Cassell, CMO Board Advisor at Birchtree and former SVP Marketing, Chief Branding Officer at Cigna, says patient touchpoints will play a crystal role in the coming future. "Right connectivity, right proximity, and the right frequency. There is a different mix in which one can engage patients and we all need to obtain the data to demonstrate their preferences," he added.
Aligning her view with Stephen, Erica Martinez, SVP, Brand Strategist at BGB Group, believes that the conversation will now move toward opportunities associated with telehealth, as access continues to be an issue. "The idea of how we take a piece of technology and partner it with a service to deliver something to patients is going to be important," she shared.
Furthermore, caregiver management and communication will be another critical aspect within the telehealth segment to watch out for. Deven opines that caregivers should have the ability to interact and intervene, when necessary, about patient care in a transparent way.
Repositioning of Healthcare Brands
For pharmaceutical and healthcare brands, the patient is the center of attention, and their needs are a top priority. However, Erica sees the attention move from person-centricity to experience-centricity. "We are thinking more about the experience we need to deliver for patients, so they can be in charge of their health and take control." She finds the focus on at-home digital devices, including at-home monitoring, to be a dynamic move. "I do not think this would stop as experiences are becoming so integral and recognized," she added.
Factoring Trust
In today's world of misinformation and fake news, the general population can be cautious about the content they consume. Some patients and consumers may find themselves trusting companies more than the media, government, or other stakeholders. Erica feels that this creates a new opportunity for healthcare marketers. "In the pharmaceuticals space, it is important to deliver clear and concise information that is going to be actionable. Companies are good at providing the data, but understanding how patients and providers connect with that information – and with each other – is critical.  If we want to empower patients, we must ensure they are starting on a more equal playing field," she asserted.
Data, the New Parameter for Trust
Data is the new oil, and there is no doubt it. Stakeholders, regulators, and, more importantly, the general public is closely watching how companies are leveraging data. Marketers believe that with the changes happening with the first-party sources and cookie-less future, data is a key parameter of trust, and transparency is the only way forward. The question is, how do we achieve this goal?
From Stephen's perspective, "It is about partnering within your respective organization and having the triumvirate of privacy, compliance, and marketing-sales not just aware how we get to market but how we can be transparent."
One must also remember companies are engaging with their customers at different junctures, and people are proactively engaged in their health to be ahead of the curve. To this end, Stephen suggests that there is probably a need to go back and understand how Covid has impacted critical touchpoints and re-evaluate while keeping transparency in mind. 
Blockchain: The Future of Healthcare?
When one thinks of data protection or security, the immediate follow-up question in many forums is whether blockchain is the future. Deven affirms that there are applications of the technology across the healthcare ecosystem. Still, the challenge continues to be how you can implement it, and if people can get used to it. "A technology change is a massive undertaking as you are dealing with people and how they use and access their information. So, it is a behavioral change in people, in addition to a technological change," he adds.
One of the other hurdles is that marketers feel obliged to create a tool or a mobile application to interact with the customer. However, Erica says the industry needs to do away with this mindset. "Customers don't want to be overloaded with too many apps that do the same thing, yet many healthcare companies feel the need to develop their own proprietary apps.  This isn't experience-centric.  A key part of unification will be to ensure that the data is protected," she clarified.
For more conversations on marketing and innovation, tune in to amanewyork.org.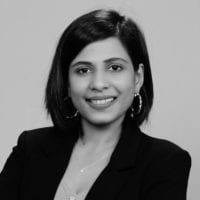 Megha Goel is a professional digital marketer with a focus on content creation and social media marketing. As an AMA New York volunteer, Megha serves on the Executive and Networking programs, creating copies for post-event blogs, social media, and email marketing. You can connect with Megha on LinkedIn.
​