Congratulations to Mei Lin Ng Wnuk, Named Marketing Volunteer Spotlight Award Winner
by Karen McFarlane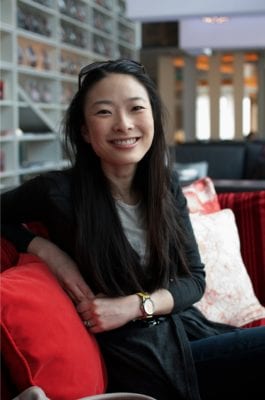 AMA New York launched the Marketing Volunteer Spotlight Awards to recognize the exceptional work of volunteers that give their time and talent to grow the organization. Since 2017, Mei Lin Ng Wnuk has volunteered on the Membership Committee where she has developed programs that attract the attention of marketing professionals all over the city. Today we are proud to announce that Mei Lin Ng Wnuk has been named a 2019 Marketing Volunteer Spotlight Award Winner for her outstanding contributions to our chapter as Director of Membership Growth. 
"Mei Lin came to AMA New York not only enthusiastic about making a meaningful contribution to the organization but also with a wealth of expertise and professionalism from her deep background in connecting with the consumer. She took on the role of Director of Membership Growth and systematically developed programs and offers that showcase the value of chapter membership. " – Karen McFarlane, President and Past Membership Committee Chair
Mei Lin's international marketing experience working with social entertainment startups and technology companies made Mei Lin a vital asset when it came to marketing acquisition and a key contender for the Marketing Volunteer Spotlight Award. Through her efforts, the chapter continues to drive awareness and attract new members across a wide array of disciplines while crushing our goals for growth. 
In Mei Lin's Own Words
We asked Mei Lin about volunteering and the value it provides to her career. Here's what she said. 
When did you join and why did you decide to become a member of AMA New York?
I first joined the AMA ten years ago and joined the New York chapter in 2012, following my return from London. Being connected to an industry of leadership, knowledge, and local networking for the profession of marketing – like that of AMA New York – has always been important to me.
Why did you become an AMA New York volunteer, and what is your role? 
I saw being a volunteer with AMA New York as a meaningful way to contribute my marketing experiences and insights. It's also a great opportunity to meet more people from a range of backgrounds in the New York area. 
My role is the Director of Membership Growth, where I am tasked with helping the New York chapter grow their membership base. I have very much enjoyed working with Karen McFarlane as Membership Chair and the broader team on implementing an annual marketing campaign plan that's resulted in +150% growth in the 2017 – 2018 year.
How long have you been volunteering for AMA New York, and what keeps you coming back?
I've been working with AMA New York for 21 months, and it's an amazing team of dedicated people. It's been a privilege to work with the Board of Directors, Membership committee, and volunteer members across the organization, where I look forward to kicking more goals together.
Tell us about your marketing career outside of AMA New York.
My background stems from a career in marketing, communications, and media relations, with entrepreneurial and international experiences. I've been helping companies to grow for over 15 years across financial services, mobile, social networking, and casual games.
I've had the opportunity to help one of Australia's first online stockbroking companies – Sanford Securities –  thrive and list on the ASX, providing me with a broad and solid foundation for marketing strategy, advertising, communications, and public relations.
After that, my entrepreneurial spirit led me to become a Co-Founder of one of the first international, mobile social networking apps – mig33. The dream was to help everyday people change the way they use their mobile phones. The experience took me to the US, Asia, and South Africa, where we grew to a community of over 45 million members from different corners of the globe.
Then I was able to relish my love for casual games, being fortunate enough to join mobile, casual social games company King.com in London. This was at a time of growth for the company, prior to the launch of their incredibly successful 'Candy Crush Saga' game and franchise. I really enjoyed seeing the inner workings of a games company, where I helped them establish their marketing and communications teams, and grow their corporate and media relations in the US and Europe.
How has volunteering with AMA New York impacted your career?
At the time of joining AMA New York, my priorities shifted to focus on a new addition to the family. Volunteering has allowed me to stay active in marketing by helping to drive membership growth for the New York chapter.
Congratulations Mei Lin!
Volunteering is a team sport, and we appreciate the time and talent each one of our volunteers gives to the organization in furtherance of our mission – to inspire, support, and celebrate brilliance in marketing. If you are a member who is interested in volunteering, raise your hand here. We'd love to have you – and maybe next time, the spotlight will be on you!