From Insights to Action: Creating True Customer-Centricity
February 6th at 5:30 pm

-

9:00 pm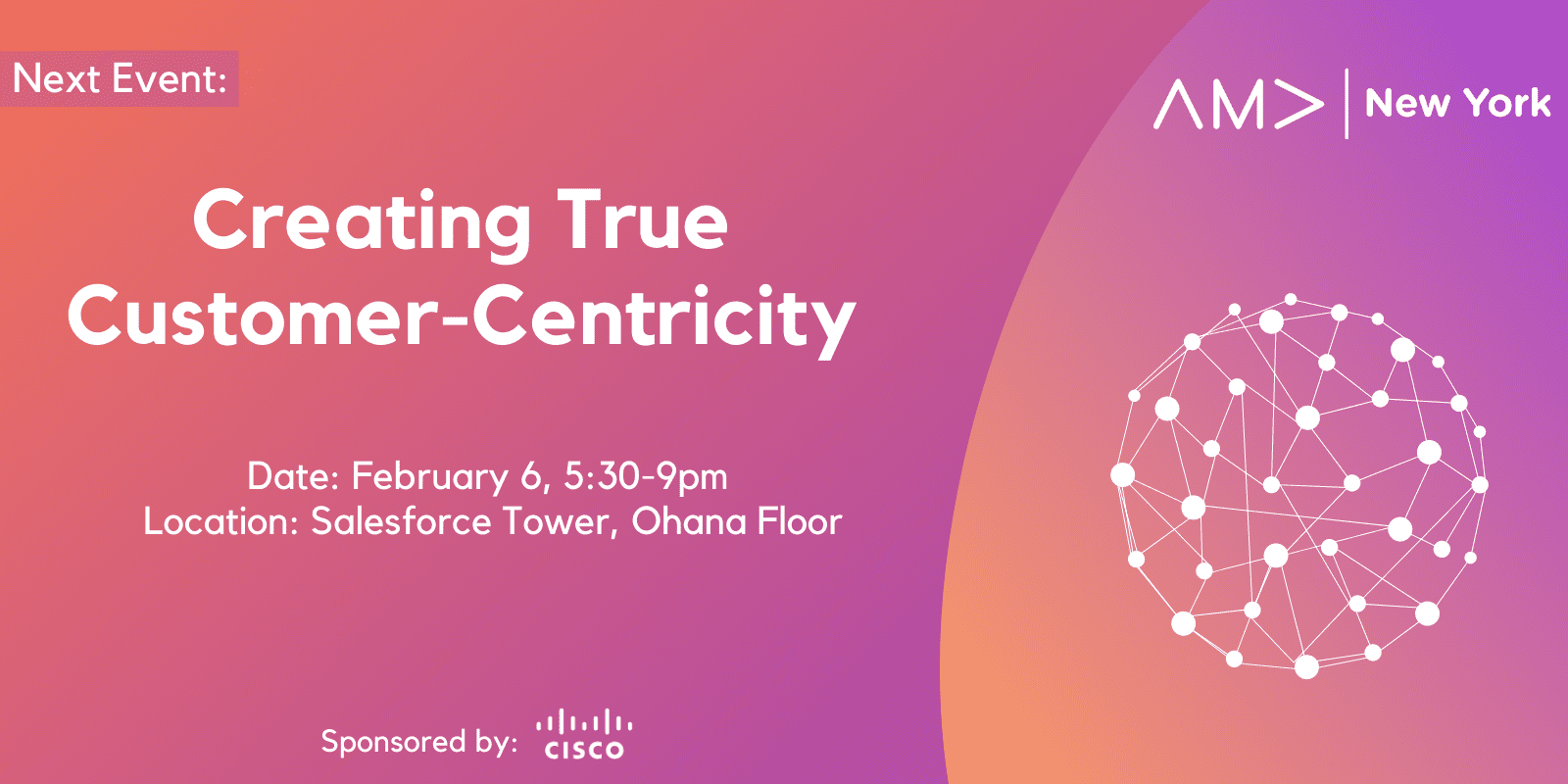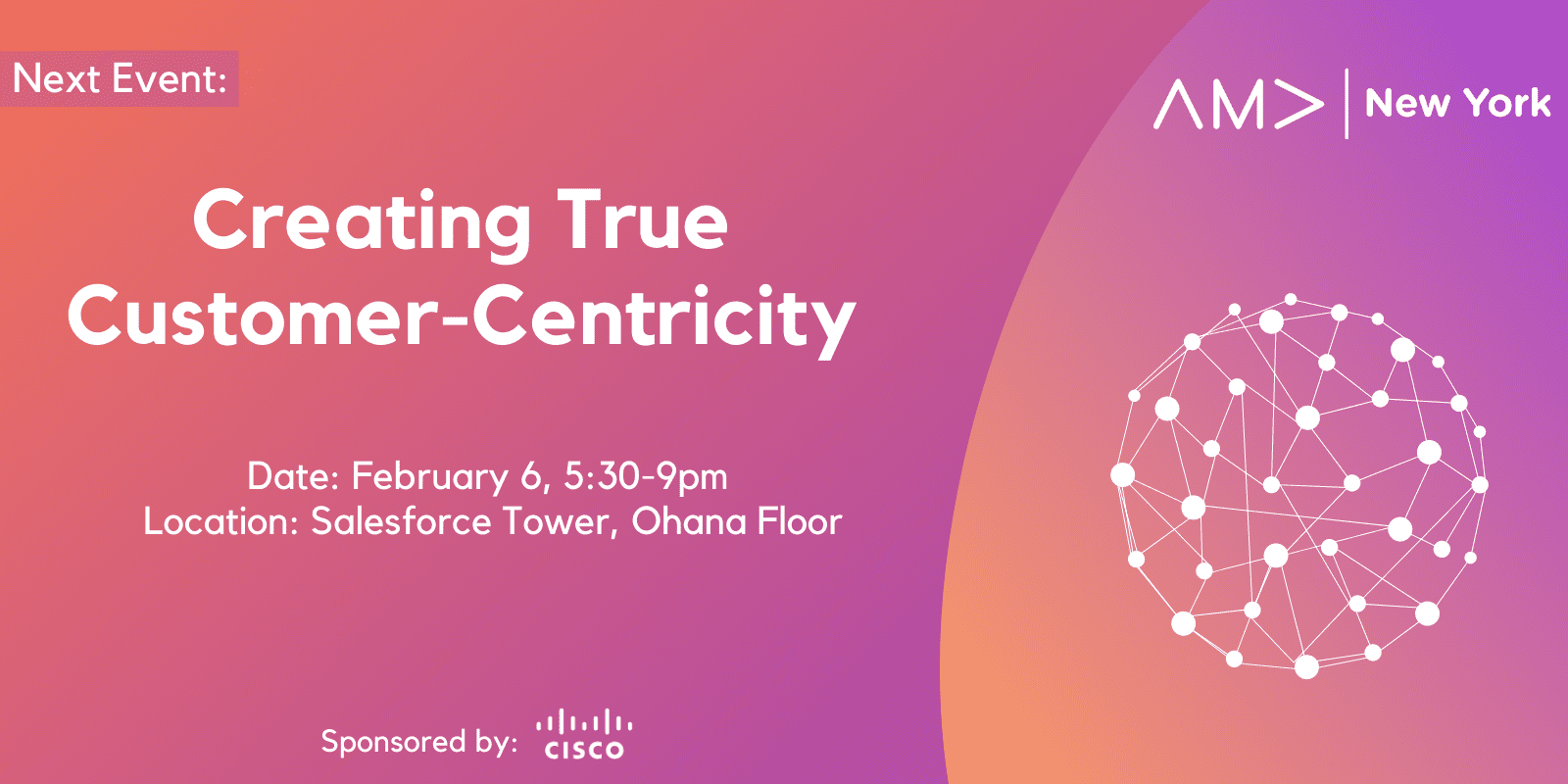 A majority of customers say the experience a company provides is as important as its products and services, according to the latest research from Salesforce. Join us at the software company's NYC headquarters to learn how your marketing strategy can be more customer-focused using technology and industry best practices. Peter Coffee, Vice President, Strategic Research at Salesforce, will moderate a panel featuring success stories from new and established enterprises. Speakers include Michelle Chiantera, Vice President, Americas Growth Marketing at Cisco and Gordon Meyer, Chapter President – New York, The VR/AR Association (VRARA).
Planned Agenda:
5:30pm – 6:30pm – Registration and networking
6:30pm – 6:45pm – Welcome remarks
6:45pm – 8:30pm – Panel and Q&A
8:30pm – 9:00pm – Networking
Members – $30.00
Non Members – $55.00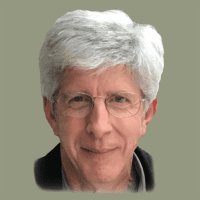 VP for Strategic Research at Salesforce
Peter Coffee, VP for Strategic Research at Salesforce, has been with the company for thirteen years. He works with the company's customers and partners in areas including connected customer engagement, new data models and methods, trust technologies and practices, and business applications of AI-derived techniques. He spent the previous eighteen years writing for publications including eWEEK, Computer Language and AI Expert, and before that worked for ten years as an AI application analyst and desktop computing manager at The Aerospace Corporation and in project management roles for various divisions of (what was then) Exxon Corporation. He has lectured on innovation strategies and AI techniques at Stanford, CalTech, UCLA, Harvard Business School, and the Sloan School of Management at MIT along with other institutions in Singapore, India and Spain; he advises on curriculum in analytics and "big data" initiatives for three additional U.S. universities. His two published books are How to Program Java and Peter Coffee Teaches PCs; his current work appears often on the UK tech news site "Diginomica" at diginomica.com/author/petersalesforce/.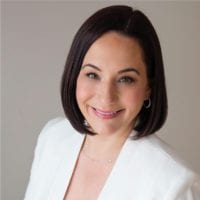 Vice President, Americas Growth Marketing, Cisco
Cisco's Vice President of Americas Growth Marketing, Michelle Chiantera, leads a team
of marketers who are in lock-step with sales to capture market share and accelerate the
growth of the Americas region. Michelle and her team strive to deliver an amazing
customer experience through marketing innovation and cutting-edge technology.
Always putting the customer first, she believes in the importance of shifting mindsets to
not only incorporate the digital aspect, but to keep the human touch to achieve
customer loyalty and position Cisco as the bridge to possibilities.
Michelle has been a leader at Cisco for over 18 years. She spent many years as a leader
in partner marketing where she was laser-focused on helping partners grow and evolve
marketing into an engine that is core to business. Leading and empowering her team to
grow, take risks, and get out of their comfort zones is at the heart of how Michelle
operates. She is a firm believer in developing talent and supporting her team to make
impact and achieve greatness in their careers.
Michelle is passionate about the early in career community and sponsors the Cisco
marketing and communications early in career program. She advocates building a
diverse workforce and talent pipeline because she knows the value that it will bring the
business. Michelle resides in upstate New York with her husband, daughter, and dog,
and loves an intense yoga class to keep her grounded.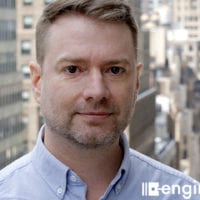 Chapter President – New York, The VR/AR Association (VRARA)
Gordon Meyer is a 20+ year industry veteran in the advertising and marketing field with a wealth of experience working at disruptive companies including SiriusXM, J. Walter Thompson and Razorfish. In 2018 he formed EngineBloc, a startup growth studio powering high potential tech startups seeking funding and revenue expansion. That same year he was named one of the "30 people to watch in Augmented Reality" by Next Reality News who said, "Gordon Meyer gradually became one of the loudest and most high profile voices pushing AR forward, far away from Silicon Valley on the East Coast." In 2019 Gordon became the NY Chapter President of the VRARA, an international organization designed to foster collaboration between innovative companies and people in the VR and AR ecosystem. Additionally he partnered with Columbia College Chicago Online to develop and teach "Blockchain for Business" for fortune 500 executives seeking breakthrough innovation. In 2015 Gordon was named "Top 40 under 40 Brand Marketers" by Brand Innovators a premier Marketing industry think tank.
He has been featured on NPR's All Tech Considered, as well as publications such as Forbes, INC Magazine, Chicago Tribune, Skift, CMO.com and Brandchannel among others.
He sits on the Board of Advisors for BWG Strategy an invite-only network for senior executives across technology, media and telecom. Additionally, Gordon is on the Board of Directors for a local Soup Kitchen and homeless shelter. He lives in New York with his wife and two daughters. 
Ticket sales end on Tuesday, February 4 at 8:00 p.m. Day of, on-site registration is not available.
Related Events