MARKETING CAREER BOOTCAMP, WORKSHOP 1: THE TRUE POWER OF LINKEDIN: HOW TO LEVERAGE LINKEDIN FOR YOUR JOB SEARCH
May 27, 2020 at 12:00 pm

-

1:00 pm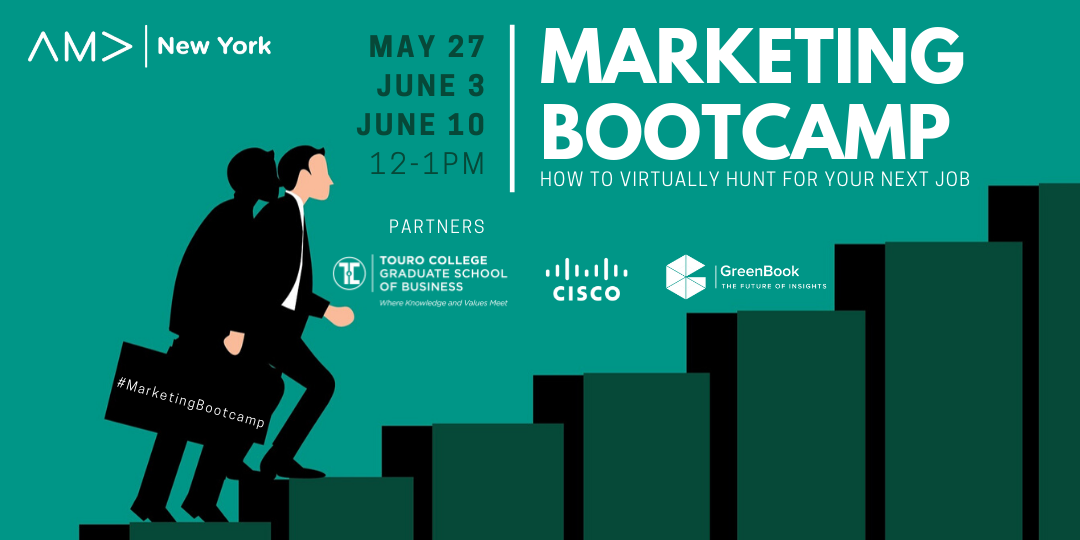 Whether you're looking for your first job or trying to make a change, it's a challenging time to search. To help you navigate this uncertainty, we're hosting a three-part virtual series, "
Your Next Step: Marketing Career Bootcamp." Don't miss this opportunity to invest in yourself and get all your questions answered by a team of recruiters and experts. Learn how to leverage LinkedIn for your job search, how to market yourself and how to network for connections and opportunities.
At each workshop, we will run two simultaneous sessions. And the best part, YOU will have the opportunity to choose the right session for you! Those who attend all three virtual workshops will have the chance to book a complimentary one-on-one session with a recruiter. So what are you waiting for?
Date and Time: May 27th at 12:00 PM – 1:00 PM
Location: Cisco Webex
Workshop 1, Session 1: Boost your LinkedIn to stand out
Larry Brantley, President, Chaloner
Are you uncertain about how to fully leverage LinkedIn in your job search? LinkedIn is a huge opportunity to connect to hiring managers, recruiters and people who can help with informational interviews. It's the world's largest professional network with nearly 660+ million users. With so many members, it's important for your LinkedIn profile to stand out and show off what you have to offer. 
This workshop is for you if:
You're new to LinkedIn or have a profile and need help improving it 

You want best practices for using LinkedIn to network and find a job 
You will learn:
How to make an "All-star" profile

What "extras" you can add to make your page stand out to recruiters

Insider tips like how to become a thought leader and why endorsements and recommendations are important — and how to get them
OR
Workshop 1, Session 2: Get inside the recruiter's head
Edward Wilders, Recruiting Manager, The Forum Group
By now, you probably already have a robust LinkedIn profile. But how do you turn that into new job opportunities? You have to think like a recruiter. According to The Muse, 93% of companies use LinkedIn to find new employees. In this session, you will learn practical tips on how to leverage LinkedIn in your job search to match what recruiters are actually looking for so you can find that new opportunity to take your career to the next level. 
This workshop is for you if:
You're already using LinkedIn, but want to use it more effectively in your job search

You want to learn how to stand out on LinkedIn to recruiters 
You will learn:
How to think from a recruiter's point of view

What recruiters are looking for in job candidates

How to fully leverage LinkedIn to support your job search and find your dream job 
Larry Brantley
President, Chaloner
Larry Brantley has more than 30 years of experience in the communications, marketing and advertising fields. One of his first key jobs was as a packaging designer at Frito-Lay where he developed his networking and people skills. He eventually started the first creative staffing firm in the Dallas/Fort Worth area. Since then he has been involved in recruiting and placement of industry professionals both nationally and internationally.
Brantley has worked with such firms as JCPenney, HP, EDS, Texas Instruments, Lord & Taylor, Sears, TracyLocke, Ryan Partnership, ConocoPhillips, Frito-Lay and Alcone Marketing. He has placed brand, creative, account service, interactive/web, public relations, marketing, media, traffic, production and other executive level talent.
Brantley has been interviewed as a staffing industry expert by numerous publications. He is an award-winning designer through International Association of Business Communicators and is an active member of American Advertising Federation where he serves as part of the executive leadership for one of its largest districts.
Edward Wilders

Recruiting Manager, The Forum Group
Eddie Wilders is a dedicated, proactive & results-oriented Director of Talent Evaluation & Recruitment, Research and Analytics, bringing along 19+ years of experience in developing and operationalizing marketing, research, analytics and recruiting strategies.  He emphasizes speed, quality, diversity, process, efficiency and candidate experience.  
After starting his advertising career in the general buying industry, Eddie moved to the direct response marketing world.  Joining a small DRTV agency in Westchester was a challenge since the company tasked all employees with handling a variety of responsibilities.  One of his first tasks was to develop the talent acquisition/recruiting department within the agency. Building job descriptions and recruiting talent took a lot of time, but after years of developing a full cycle process, the company still utilizes the systems and procedures to this day.
After 17 years with Lockard & Wechsler, Eddie made the decision to make a career switch to the recruiting world, first consulting and then joining The Forum Group.  Helping clients within the advertising and marketing world find the best talent has been challenging within this work climate, but a challenge that he welcomes.
Related Events