10 Rewrites for Your Calls to Action
By Susan Varty
Sometimes it's not enough to inform. As marketers, we succeed when we persuade others to click, call or buy. To do this, we need to ask people to take the next step. How? With a short phrase known as a "call to action" or "CTA."
Here are 10 rewrites for some common "calls to action" and why they will perform better overall.
Join our mailing list = Get our practical tips and exclusive offers. Joining a list is not exciting. Getting exclusive offers, promotions or great content in your newsletter, is! Be specific about what your audience is getting.
Download our whitepaper = Learn what we found out about your industry. Focus on the outcome for your audience and tap into their fear of missing out. Use plain English so that the audience doesn't click away when confronted with industry jargon.
Check us out on Instagram = Our Instagram followers get special deals every month. Always tell your audience why they should follow your social media feeds.
Visit our website = Read our latest blog post on X. Provide a reason and be specific so you don't waste anyone's time. This will result in more clicks.
Shop now = Get 10% off your first purchase. Encourage people to act by stating the benefits up front.
Thoughts? = Leave a comment about X. If you want to start a discussion, let your audience know.
For more information = Contact us to book a demo/meeting/call. Unless it comes from a human, "more information" is unlikely to inspire action. This rewrite also tells them the next step in the process (instead of sending them back to where they were before).
Buy one, get one free = Shop online only to buy one, get one free. Use incentives for specific channels you want your audience to use.
To speak with a representative = Email or call Sam in customer service. When people connect with people, they are more likely to take action if they know what/who to expect.
Schedule a meeting using my calendar link = Does Tuesday at 2pm work by chance? Suggest times up front, and don't hand off your schedule to a computer if you can avoid it. Starting a relationship in this manner puts you first, not your audience. Make it as easy as possible for them to hit reply and say "yes, sounds good."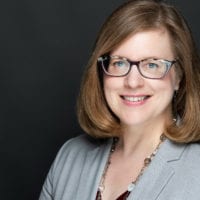 Susan Varty is Founder and CEO of HeadStart Copywriting. Creating high-impact industry content since 2012, HeadStart Copywriting offers unlimited writing and editing as a subscription. Partner with an experienced team of professional researchers, writers and editors to publish content that resonates. Are you a leader who is not afraid to make an impact? Get early access to our HeadStart community of "Leaders with Impact" through our new mailing list (open to all until March 1, 2021, then invite only).