5 Tips for Growth from AMA New York's Virtual Networking Event
During these challenges times, when social distancing continues to be the norm, virtual networking can provide invaluable benefits: A sense of community during a period of isolation. The opportunity to connect in one place with people of diverse career levels and geographic locations. The exchange of ideas, tips, and suggestions. And fortunately, the list goes on.
On December 10, AMA New York hosted its Holiday Cocktails in the Greenroom, an evening filled with virtual networking, small group discussions, and a fun interactive trivia game to celebrate the end of this unprecedented year. Joined by sister chapters in Atlanta, Los Angeles, Puget Sound, and San Francisco, 120 marketers came together virtually to connect, mingle, share ideas, and of course, have some fun. 
Here are five tips shared during the breakout sessions that can motivate you to take that next step as 2020 soon comes to an end with 2021 just around the corner.  
Take advantage of free or low-cost online certifications.

What are the best ways to upskill and stay relevant in the ever-changing digital marketing industry? Several event attendees recommended HubSpot's Inbound Marketing and Social Media Marketing Certifications, Google Academy's Google Analytics Courses, and Yoast Academy's Writing for SEO courses.

Network with people within and outside your industry.

You never know how you will make a meaningful connection. One participant shared their recent virtual networking experience through Lunchclub, meeting new people weekly online. According to LinkedIn, Lunchclub is an "AI super-connector that makes introductions for 1:1 video meetings," and its mission is "to power a future of work where making new connections is easy, meaningful, and fun."

Leverage LinkedIn to hone your personal brand.

Think creatively about your LinkedIn headline and your story, and make sure the "About" section highlights your personality. The goal should be to deliver value immediately to the person looking at your profile.

Be open to different job roles.

Consider freelance work when

job searching during this time of uncertainty

. It's possible that part-time or contract work could lead to a full-time position. One event attendee suggested making connections at companies that align with your values and reaching out to them for project work.

Take time to focus on your mental and physical health.

Take note of what you feel grateful for, no matter how small.

Practicing gratitude

can positively impact your wellbeing. A few event participants mentioned they were thankful for having some time to work on hobbies, including cooking, listening to podcasts, exercising, and reading.
Joining a community of fellow marketers is more important than ever, providing numerous benefits for networking, learning new skills, and making meaningful connections. "Us marketers need to stick together," one event attendee stated. Check out how you can get involved in AMA New York to further your career goals.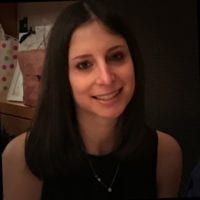 Deborah Grossman is a digital marketing professional with a background in social media marketing, influencer marketing, and community management. Since 2019, she has been active in AMA New York and serves as the Director of Content and Strategy. In October 2020, Deborah received AMA New York's Marketing Volunteer Spotlight Award for outstanding contributions to the organization.