Brilliance in Marketing: Leather Head Sports Building an Entrepreneurial Brand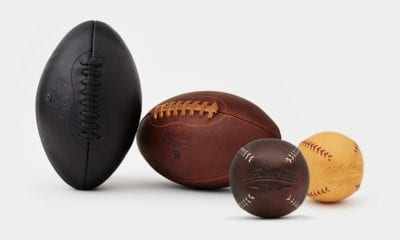 ​Starting a new brand as an entrepreneur is a tall order. Lisa Merriam of AMA New York spoke to Paul Cunningham, founder of Leather Head Sports about starting a company with a unique niche. Between mass-produced sports balls in synthetic materials and a growing trend towards high tech smart balls that track stats like speed, velocity, and distance, he has carved out quite a business. Leather Head Sports makes sports balls the old-fashioned way; hand-sewn in real leather. Paul talked to us about building a small business through effective marketing.
TRANSCRIPT:
Lisa Merriam
00:03 Between mass-produced synthetic sports balls and smart balls that track everything from speed spin to distance, there's a company that's carved a nice niche for itself.
00:14 The American Marketing Association New York came out to Glen Rock New Jersey to talk to Paul Cunningham the CEO and founder of Leather Head Sports.
00:22 They make sports balls the old-fashioned way; hand-sewn in real leather.
Paul Cunningham
00:28 We stand for craftsmanship and an appreciation for beautiful leather.
00:32 Largely what we want to do is de-commodify what a sports ball is and we want people to consider sort of the sculptural form of a sports ball and you know by using beautiful leathers.
00:47 There's different leathers and that gives people a different sense of what is possible.
00:53 I had started the business as a home hobby in around 2006. I was working in a corporate job.
01:01 The hobby was making a vintage style baseball.
01:03 It was almost like a branding experiment to see if I could take this design that I already had, you know, a ball that I was making with great competence.
01:12 It was a beautiful ball. It was well made. The craftsmanship was great and just use that to see if I could brand it; see if I could create a market for it.
01:22 So that was the genesis of the brand and very quickly I realized that there was a market.
01:27 Any time you're starting a new business, the first thing you want is attention.
01:30 You want people to see what you're doing.
01:33 With the Leather Head brand, storytelling is very important.
01:37 I was making sure that I was taking good photography, showcasing the product in the best possible light.
01:43 I was also very conscious of the writing; telling the story.
01:49 Initially I got so much success with these very influential bloggers and because they were so widely read and so influential that it led to a lot of other media opportunities
02:00 But I think my point is, you should always really be aware of what the media landscape is in your time.
02:09 For the first 10 years, it really was to a large extent about product development; trying to figure out who are customers were, but we were also developing the products.
02:19 We were learning how to make things. We were learning about our sourcing
02:24 In ten years, we've developed a very wide array of products. You know, we've got a very solid product line.
02:31 We started off with a single baseball and now we make a ball for virtually every sport.
2:37 Now that the product line is pretty much buttoned down, we're trying to expand our B2B presence
02:47 B2B is very important. We want to make sure that businesses recognize that what we do can really help them bolster their brands; corporate gifts that sort of thing or or awards.
03:01 Another element of what we're doing is Amazon where in addition to our own website, we also have an Amazon presence.
03:09 The Amazon presence is something that takes a lot of effort. Amazon is a very powerful entity.
03:16 Over the last ten years of trying to stay relevant, the one thing that I keep coming back to is number one:
3:24 You have to stay in front of people. It's a daily effort. You always have to be present.
03:30 Another thing is that we are a niche business so people aren't necessarily looking for what we do
03:39 So you always–that's another reason–why you always have to be relevant and present.
03:44 What I have also found that's most important for a business of my sizes is being organic
03:43 I don't have the budget to buy all kinds of ads. I don't have the budget to do focus groups and targeting and all kinds of demographic studies.
04:00 We have to be conscious of social media, but we have to be present there in a very organic way; a very authentic way.
04:09 The organic approach for us is most effective. We have a very authentic product and we feel that's the best way to resonate with people.
Lisa Merriam:
04:17 With so much in sports being about big brands and big money, it's nice to see a brand succeed that focuses on craftsmanship and artisanal excellence.
04:27 And that's brilliance in marketing.