Writing a Guest Post – How to Use Guest Blogging to Build your Brand
By Lisa Merriam
AMA New York Board of Directors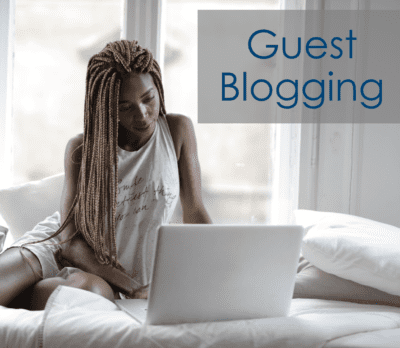 Writing a guest post is a reputation-building tactic that is more important now than ever.  With networking, presentations and speaking at conferences curtailed, the guest post is an effective alternative for promoting your personal brand. Here are the four steps with tips to help you along the way to successful guest blogging.
1. Research media outlets and editors
Before investing any work in writing a guest post, do a little homework first. Discover what media is relevant to your area of expertise. Google your topic and connect it with any of the phrases below in a Google search bar to find sites in your industry or area of interest that might accept a guest post:
"guest post"
"submit an article"
"contribute guest post"
"contribute to our blog"
"become a guest blogger"
"guest blog guidelines"
"contributor guidelines"
"guest post by"
"write for us"
"become a guest blogger"
Finding a likely media site for your guest blog is only the first step. Look through recent articles to see what topics they cover and get an idea of style and length of articles already published. You can sometimes see how many people have read each article to see what is popular. Then take the time to discover the submission process, which is different for each media property. Many of the most sophisticated blogs offer writers' guidelines. Read them and follow them. Though they are called "guidelines," failure to follow them will likely get your article rejected. For the top tier media sites, the writers' guidelines are really must-follow rules.
2. Submit a pitch
Based on your understanding of the media site, topics of interest, and its process for submitting a guest post, send in your pitch. You should have a succinct overview of your topic and the angle you plan to take. Explain how your guest post will be beneficial to their audience. Present your credentials and why you are the right person to provide the insights, advice, or opinion. Suggest keywords you plan to use.
3. Write
After your pitch is accepted, write the article. The web site might have suggested tweaks to your idea. Incorporate those into your approach when writing your guest post. Go back to the writers' guidelines and be sure to follow them. Write with a basic understanding of SEO. Our own AMA writers' guidelines for this site include a quick overview of SEO basics and provide a few tips for writing effective blogs. Most blog articles run between 500 and 2,000 words, include 4 links to high quality external sites, and get the SEO right. Never make the mistake of submitting a sales pitch that is thinly disguised as a blog article.
4. Link like crazy and promote
When your article is published, thank the web site that published it. Link to it on any of your online profiles, on social media and on your own blog to promote it. Consider putting a few dollars behind a paid boost of your guest blog article on LinkedIn or Facebook posts. Send an email with links to your network. If you generate quality traffic to the blog article, you'll likely be invited back.
A strong personal brand is a valuable asset in today's economy. It can help you keep your job and even raise your profile in your company. If you are looking for work, it can help you find a job. If you are building a business, your personal brand can win you clients and help you boost your rates. Writing a guest blog can help you build a strong brand when in-person brand building opportunities are limited.
About the Author:
Lisa Merriam serves on the American Marketing Association board of directors and is chairman of the communications committee. She is a marketing, brand, and content consultant at Merriam Associates. She is the co-author with Milton Kotler of Weaponized Marketing: Defeating Islamic Jihadists with Marketing that Built the World's Top Brands, Rowman Littlefield, Spring 2020.