How To Make Customers Love You
By Samantha Rideout, MPR
How to make customers love you
Loyalty, retention, and lifecycle marketing strategies driving success in 2022
"The customer isn't always right. Rather the right customer is always right. And yes, there is a difference." – Peter Fader
Do you see your customers as guests you invited to a party? That's Jeff Bezos' definition. The founder and CEO of Amazon shared his customer retention philosophy:
"We see our customers as invited guests to a party, and we are the hosts. It's our job every day to make every important aspect of the customer experience a little better." 
This quote underscores the importance of lifetime value (LTV) or customer lifetime value (CLV), as Peter Fader terms it in Customer Centricity: Focus on the Right Customers for Strategic Advantage. CLV is a forward-looking concept focused on predictive customer value. The expected lifetime value of a customer is the most critical data companies can have, argues Fader, because it provides greater insight into what their customers are actually worth. This thinking flips the focus from historical value to what a customer (as individuals or a group) will express in the future. 
The math of loyalty and retention marketing can feel cold and cheerless. Steven Strozza, manager of loyalty partnerships at New York-based airline JetBlue Airways, got to the heart of the matter. 
The best thing a marketer can do to increase brand loyalty
Strozza explained that while, of course, every company wants to offer superior service consistently, realistically, companies always falter for one reason or another. 
"A brand is placed in the heart of a consumer in perpetuity when they manage a poor experience or a "mess-up" well. Recently at JetBlue, we called all of our loyal customers who shared negative experiences with us in a survey. Almost all the customers I called directly shared that they were happy just to feel heard. They appreciated that we were trying to right our wrongs."
Pandemic vs. loyalty marketing efforts
Like every other aspect of marketing, the pandemic has spurred disruption and evolution. The airline industry was among the most impacted. Strozza shared how creative thinking was necessary to remedy the loss of JetBlue's most valuable retention marketing tactic: in-person interaction. 
"During the pandemic, much more has been digitized," said Strozza. "Our brand is particularly strong when it comes to in-person interactions, and we see a bump in net promoter scores (NPS) when our customers have that face-to-face interaction with us." 
JetBlue brainstormed creative solutions to:
Make the digital experience more personable

Offer touchpoints of in-person interactions (for those who want it.)
Emerging retention marketing tactics
"A recent trend I've noticed is how excited customers are to learn more about their interactions with brands they love," said Strozza.
Some popular examples include:
Kindle

connectivity with GoodReads (the readers-only social media platform) can automatically update reading progress in an eBook. Customers learn more about how their reading lends itself to new recommendations while promoting their product usage in a reader-specific digital space. 

In an increasingly online ethos, these user experience functions replicate the in-person interactions with booksellers and librarians. 
Peloton

and

Equinox

both send information to customers about their product usage as a benefit. 

Peloton gives users the ability to share their milestones, completion of monthly movement challenges, and even specific classes to Instagram.

A testimonial doesn't have to be a website quote in italics when a customer is inspired to promote their own product usage.

The data is also used to curate marketing emails with new workouts to schedule based on past product use.
Headspace

and

Duolingo

are both digital-first brands that thrived during the pandemic. 

Headspace is a meditation app, while Duolingo is designed for language learning. Yet they both use the "streak" to motivate continued customer app use. 

It can be incredibly motivating for customers to see their meditation streak numbers increase. 

Customers can easily share their successes on social media for the 2022 version of word of mouth (WOM) advertising. 
"Telling customers something about themselves that they don't already know can be a great way to engender loyalty. It costs the organization little to nothing and can be a great way to promote products," added Strozza.
Does your brand have an engaging retention marketing idea? Share it with AMA New York.
Join the party. Learn more about the Bezos customer retention philosophy in Amazon Unbound, recommended by Liz Perl, Executive Vice President and Chief Marketing Officer of Simon & Schuster on the AMA New York Reading List: Seven Books Every Marketer Needs to Read.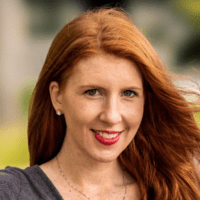 Samantha Rideout is the Marketing Director at a four-time Inc. 5000 fastest-growing company, Pharmaceutical Strategies Group. Samantha has been published by PR News, the University of Edinburgh Press, PR Daily, and more. She has a master's degree in public relations. Samantha volunteers with the American Marketing Association. Connect with Samantha on LinkedIn.