How to make your Content Marketing Strategy more audience-focused
Content marketing strategist Robert Rose weighs in
By Danielle Brody
Content marketing is an effective way to reach customers and prospective customers  — especially during COVID-19 when other advertising streams aren't available. But it's in need of a reboot, according to Robert Rose, founder and chief strategy officer, Content Advisory.
"The biggest trap is to look at content marketing as just another flavor of traditional marketing and advertising," Rose said. 
He stresses the importance of building a content marketing strategy, and creating content with the audience and customer journey in mind. 
Rose, who is also the chief strategy advisor at the Content Marketing Institute, has helped marketing leaders balance the art and science of marketing and tell their story more effectively for the past 25 years. He's speaking about content marketing strategy and the customer journey at AMA New York's "Marketer's Toolkit Workshop: Treating Audiences Like Customers – Investing in Audience Personas" on Sept. 23. Attendees will receive a discount to Content Marketing World, a virtual content marketing event in October.
Rose said teams oftentimes don't consider content marketing strategy or the audience experience and customer journey. This means the content team ends up creating random content pieces as "bait" to feed an existing campaign or attempt to accomplish a goal, like lead generation. 
"The business ends up with a big pile of disconnected (and some quite creative) assets – but no way to connect them to the larger story, or experience they are trying to create for their prospective customers," he said. 
Instead, it's critical that businesses are proactive with content and take a strategic, editorial approach. For example, content might be created to service the customers' experience like a blog, a resource center, or a thought leadership program. It can be reused to feed both lead generation campaigns, as well as audience-building efforts.
When building a content strategy, it's important to understand who the piece is for in addition to the customer journey. Content marketers might view the entire audience as one buyer, but there are many more personas that may involve different levels of education or thought leadership that can determine content direction. 
Some readers might not be aware a problem exists, others need to learn more about a company's different products, while existing customers need content explaining the brand value to build loyalty after a purchase. Also, remember that not all readers will become customers. 
"Understanding our personas, not just as buyers, but as people that we develop more expansive relationships of trust with, is a key point at every part of the overall brand experience," Rose said.
Now that so many brands can offer similar value propositions — like manufacturing at scale or distributing globally — quality content and customer experience can be a differentiator. In 2020, with digital facilitating relationships, it is imperative that brands not only get good with content — but that it becomes a differentiating function in the business.
Image by Werner Moser from Pixabay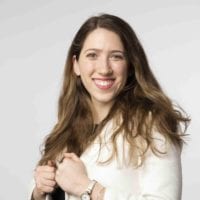 ​​
Danielle Brody is an associate editor at Insider Studios, the branded content division of Insider, Inc. (publisher of Business Insider). She is the networking events director at AMA New York. Connect with her on LinkedIn.