U.S. and China Marketing Forum at CKGSB Americas on the Future of Marketing
By Lisa Merriam
AMA New York Board of Directors
U.S. and China marketing forum: In a time of trade war, economic nationalism, and rapidly changing shifts in market production, demand, brands, and technology, marketers need an advance look to inform their plans and strategies.
To give you that insight, AMA New York surveyed 500 consumers and 500 marketers in the U.S. and China. The expansive sample, and in-depth questionnaire, provided a rich trove of data that compares consumers in both countries and contrasts their views with those of marketing professionals.
 AMA New York and CKGSB Americas are co-hosting this U.S. and China marketing forum discussion about the implications of the research with marketing leaders from both the U.S. and China.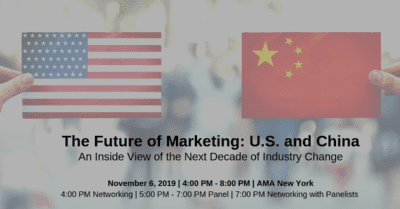 U.S. and China Marketing Forum Expert Panelists
The panel will be moderated by
Don Sexton: A retired professor at Columbia University and visiting professor at CEIBS in Shanghai, Don travels to China regularly as a marketing consultant.
He will be joined by:
Joe Tripodi: A global marketing leader and former chief marketing officer for Subway, and executive vice president and chief marketing and commercial officer at The Coca-Cola Company.
Saul Gitlin: a marketing expert with deep consumer and B2B experience in Asia, the Middle East, U.S. and Canada and senior director – Mount Sinai Health System, Mount Sinai International, LLC.
Tom Doctoroff: One of Asia's most respected marketing professionals with nearly twenty years work based in China as a leading expert in the cross-border management of brand architecture and brand building.
Helen Ye: Vice president of Ogilvy Group's Global China Practice.
Craig Charney: President of the Charney Group, who is the lead author of AMA's Future of Marketing report.
Future of Marketing Top Issues
Ad Spend: Marketers in the U.S. and China are forging ahead with plans to increase online and digital media spend, yet consumers in the two countries foresee their future use of these channels differently. What opportunities do these differences present to brand marketers?
Customer Experience: The United States and China marketers are keenly aware of the need for consumer empowerment, greater choice of shopping channels and maintaining trust with customers throughout all interactions and transactions. What are the options for marketers and how will they maintain strong connections with consumers?
Nationalistic Reactions: Marketers in both countries must contend with the less favorable business environment and view of their brands outside their borders. How can they continue to appeal to the remaining consumers who like them despite trade agreement uncertainty?
Privacy: Fears about data use and security, fraud, and identity theft have consumers in both the U.S and China fearful about their privacy. How can the C-suite work to resolve these concerns and strengthen their brands in the process?
Social Impact: The feelings of constant surveillance, social isolation and depression are increasingly worrisome for consumers in the U.S. and China. Do marketers recognize these impacts seriously with regard to their perception and relationship with consumers?
Don't miss this highly insightful event—get your U.S. and China Marketing Forum tickets now.
About the Author:
Lisa Merriam serves on the American Marketing Association board of directors and is chairman of the communications committee. She is a marketing, brand, and content consultant at Merriam Associates. She is the co-author with Milton Kotler of Weaponized Marketing: Defeating Islamic Jihadists with Marketing that Built the World's Top Brands, Rowman Littlefield, Spring 2020.