Join AMA New York and Unlock a Ton of Career and Networking Benefits
By Lisa Merriam
AMA New York Board of Directors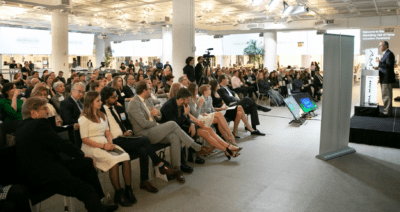 Join the American Marketing Association to boost your career and build your network of supportive peers. Here at the New York Chapter, we take membership to another level. Marketing professionals in New York City thrive in the center of the world's most influential business city. Joining the American Marketing Association New York gives you both national and local benefits:
Build a network of peers and mentors and raise your profile in the New York's marketing community. And with 70 professional chapters across the country, you can connect with marketing leaders when you travel and attend events.
Attend some of the city's most innovative marketing events, including the nationally known Marketing Hall of Fame that attracts the biggest names in the field every year.
Learn from experts in their fields and share contacts and expertise.
Participate in our marketing mentoring program, whether you need support or want to give back.
Contribute your expertise and raise your profile with the member's blog.
Access toolkits and expertise like the AMA marketing essentials templates, webinars, marketing best-practices guides and more.
Enjoy subscriptions to media, such as Marketing News magazine, academic journals, and e-newsletters.
Add professional certifications for the most in-demand marketing skills with the Professional Certified Marketer® programs.
Attend marketing training, bootcamps, and marketing conferences around the country
Get discounts on rental cars, hotel rooms, business supplies, credit card processing, UPS shipping and more.
We even host a marketing job board.
And if you are in Chicago, you have free use of workspaces at the AMA Global Support Center.
When you join the AMA New York, you truly unlock career and network building benefits you can get nowhere else in the city that is like nowhere else.

About the Author:
Lisa Merriam serves on the American Marketing Association board of directors and is chairman of the communications committee. She is a marketing, brand, and content consultant at Merriam Associates. She is the co-author with Milton Kotler of Weaponized Marketing: Defeating Islamic Jihadists with Marketing that Built the World's Top Brands, Rowman Littlefield, Spring 2020.