Women Leading The Way: An Interview With Marilyn Markham Of American Express Global Business Travel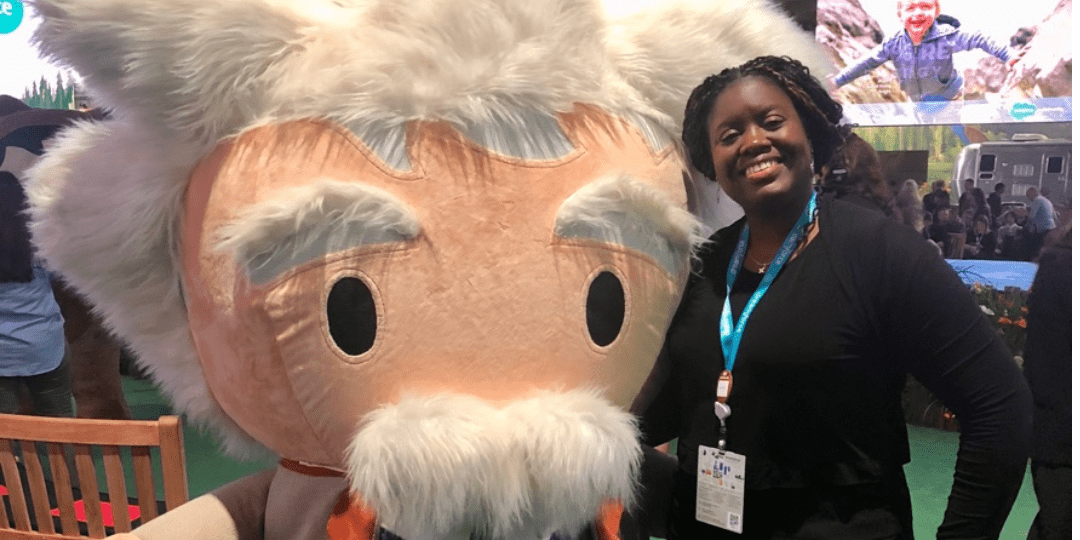 Marilyn Markham is a tour de force. Her title of "Head of Salesforce Center of Excellence" at American Express Global Business Travel (GBT) can't contain her.
While professionally, Marilyn is leading digital transformation, essentially rebuilding the technology that runs commercial, implementations, service, and customer engagement from the ground up, she's doing quite a bit more than that. She is also a critical part of the energy that is making GBT a more diverse, equitable, and inclusive organization.
Marilyn speaks fluent French, Spanish, and English, and holds a master's degree in engineering from the Institut National des Sciences Appliquées de Lyon, France, and an engineering diploma from the Universitat Politècnica de València, Spain.
How did you get started and get to where you are now?
I was born in Geneva, Switzerland, where my parents were working at the United Nations. When I was six, I moved to France with my mom when my parents separated. I lived there until I started engineering school in Lyon. I went to Spain for my last year in college, but returned to France for my first job. They moved me to London, where I eventually joined American Express Global Business Travel. I was flying to the US so often I asked: "Do you think my role is better based in New York?" And they said: "Actually, yes, but we didn't think you'd accept a move." Well, I did, and now I'm here.
How did you come to lead the creative disruption at American Express?
I have never been a person who just checks the boxes. I'm not rebellious, but I'm always wondering if there's a better way. The opportunity at GBT was perfect. The travel business was a spin-out from American Express, and now had focus and investment. They were looking for some fresh eyes and bright minds to make the best of it. I said: "Yeah, that's me. Bring me on."
I spent the first six months traveling the world, seeing how things were done, and discovering where we could improve. Our service quality was stellar but we pulled it off with great effort. Training took months. Our dedicated client teams could not scale and maintain a high level of customization. We had a CRM but it wasn't used to manage the traveler relationship. We were not making the best use of technology to connect with clients. Business travel suffers from inertia. As an outsider, I saw things differently. As an engineer, I could see how.
It took nearly three and a half years to get approval to change our core approaches, because we went through so many executive leadership changes. Finally, with a new CITO who had experienced the power of a CRM, a progressive COO and forward thinking CFO, we were able to get everyone aligned by the end of 2019. The multimillion budget was approved and scheduled to be spent over 5 years. A few months later, COVID hit.
How has COVID affected your business?
Hardly anybody is traveling for work. While it's terrible for my business, it's great for transformation projects! We were struggling with how to make such fundamental operational changes while still operating—changing the tires on the car while we speed down the highway. Now the car is parked. Back office and technology teams have been working in earnest, not knowing when travel would resume. When business returns and we bring back the front-line people, we will need to retrain them anyway, so it is the perfect time to introduce the new systems.
How has your engineering training affected how you see business systems?
As an engineer, I think in a very systematic way that starts with people and ends with people. In the middle you have technology and processes. People are sometimes afraid of technology. They think it threatens their job security. In some ways, it's true, technology efficiently replaces repetitive and predictable jobs. However, customers want that human touch when the stakes are high, not robots. In customer service & travel, technology does not replace people; it makes them more efficient.
More than transforming processes, you are transforming culture at GBT. Tell us about that.
I'm quite passionate about social justice. When George Floyd was murdered, I ran out of patience with racism. I had just arrived in the United States a year and half ago. Internationally, the US is seen as the land of opportunity and progress. In France, we were looking at the US and thinking: "Oh look at how good the Black people have it there. When Americans were celebrating their first Black president, we were celebrating the first Black news anchor on national TV." Last summer, I felt betrayed, like someone had lied to me. I've seen discrimination and racism in France, but I never felt it was deadly. This time, it felt deadly.
I started a chat channel on Zoom with a few of my Black colleagues. Then a number of our non-Black colleagues wanted to join. They felt passionately about the issues. I welcomed them all. It is going to take every one of us to change things. We are about 150 people now on the channel but we didn't stop there, we organized.
Our CEO sent a memo decrying the "senseless murder" of George Floyd. It ended with platitudes about being committed to a workplace where everyone feels at home, saying it's "everybody's" responsibility. I wrote him back to ask what he was going to do about it, how he was going to hold his leadership accountable and examine the culture. "When it's everybody's job, it is nobody's job."
How have you experienced racism in your career?
I think it is important to be creative in problem solving and decision making. It's hard to create a different world if you can't imagine it. You have to disrupt yourself. Earlier in my career, I was ready for a promotion. I had been an acting director without title and asked to be officially promoted. My boss said: "No, I don't see you as a director." I asked what I was missing; financial acumen? People skills? Technology expertise? He said  that I had all those things. When I asked again, he said: "I just don't see you as a director." Period. It took me months to unpack what he meant. Clearly, I had hit the proverbial glass ceiling, so I left shortly thereafter. I now realize that social justice also requires a little imagination to hire, reward, and promote diversely.
How did your CEO respond to your challenge?
He booked an appointment with me and started by asking me what it was like being a Black person in this company. He was seriously interested. I don't think I said anything revolutionary. I shared some personal experiences in the workplace that seem ordinary but speak to issues I have observed everywhere I have worked.
As a Black Woman in engineering, it is hard work to gain credibility and to be heard in a male dominated field. I've countered this by aiming for long tenures in places I have worked and alternating between insisting to be heard and letting people make their own mistakes in spite of my better advice. Eventually, I progress. I learnt later this is called the glass cliff: denying minorities progress until there is nobody else who can clean up the mess.
I feel I have been lucky with leadership throughout my career. My leaders have often turned out to be great advocates of mine. I've been given the opportunity to participate on industry panels and have found myself sitting next to CEOs , other C-suite members and the least of them would be a Director. To ensure my ideas would be given the attention they deserve, we would embellish my actual position and name me head of something or other. I realize now, that if my title was insufficient, I should have insisted on a promotion, but I was taught to be grateful for what I've got, even if it was less than I deserved. I now think this overinflated sense of gratitude limits the economic progress of people of color.
I shared the story of a new hire taking a desk a few rows behind me. On her first day, she walked in with a serious face until she saw me. Then she smiled hugely. After settling in, she came over and said: "You don't know how happy I am to see another Black person on this floor! I was worried because I've been here three times for interviews, and I had not seen a single Black person." How come so many corporations only have a handful of Black people? Are there no competent Black candidates, are they not being hired or are they not feeling welcome?
He said: "Okay. What do we need to do to make things better?"
What has changed?
In under a year, a lot has changed! A new department for Diversity, Equity and Inclusion was created led by a wonderful team of internally promoted staff. The employee resource groups have been re-energized to propose solutions and hold leadership accountable for advancing the cause of the minorities they represent. For the first time, company holidays are no longer dictated, instead the allocation is given for each person to choose celebrations according to their culture & beliefs. These are the first steps to more important changes to come.
Alongside these policy changes, the company culture is shifting. We have had heart breaking, insightful and truthful conversations about race in team meetings. We regularly brainstorm ways to tackle unconscious bias and level the playing field for people of color. We have a huge brain trust in the committed leadership of the Black Engagement Network, the vibrant community of contributors in the network, and senior leaders, our champions, across the company.
It's a lot of work and it's emotional but what keeps me going is hearing testimonials from my colleagues that confirm that our conversations have uplifted them, have helped them be better parents to their children and inspired them to cause good trouble at the dinner table or across the hedge. I truly believe businesses can be transformation centers to create a more just society. By creating economic opportunities for minorities, of course, but also by transforming mindsets.
My CEO is putting his money where his mouth is and it's having a ripple effect. His note was clumsy, but his heart is in the right place.
What is next for you?
I honestly don't know what is next for me. I am where I thought the pinnacle was but find myself looking beyond it. I want to keep working in the business of transformation, perhaps beyond technology. I don't know, but I believe in God so I'm happy for him to take the wheel.