Take Your Seat at the Table: Leadership Strategies for the New Decade
May 20, 2021 at 12:00 pm

-

1:00 pm

Free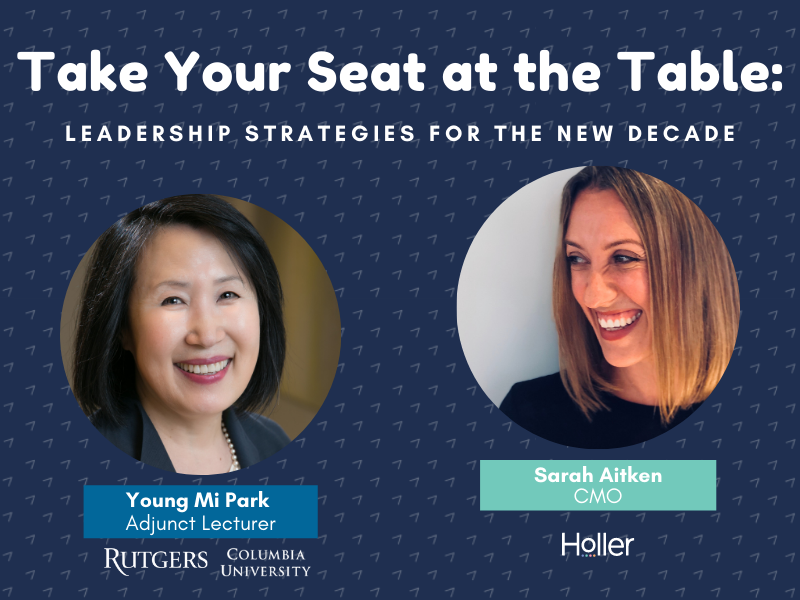 Find out how Sarah Aitken, CMO, Holler, used her experience building brands at agencies to start her own consultancy. On Thursday, May 20, at 12 pm EDT, she will share her story with AMA New York at Take Your Seat at the Table: Leadership Strategies for the New Decade, part of our ongoing Women in Marketing Series.
Young Mi Park, adjunct lecturer at Columbia University and Rutgers Business School, will lead a conversation with Aitken about how to be an innovative marketer, navigating career change, and leadership lessons. Stay until the end for the 15-minute "Ask Me Anything" live session to gain career inspiration for your next bold professional move.
Why join this event:
Get an inside perspective: Hear a global head of marketing's career story and how she pivoted her direction.
Learn more about brand-building: Hear a CMO talk about agency life.
Entrepreneurial inspiration: Aitken went out on her own and started a consultancy — learn about this journey and leadership lessons.
Sarah Aitken – Guest speaker
CMO, Holler

As CMO at Holler, Sarah is responsible for both the consumer and business brand build. Creating a trusted and beloved consumer brand in the messaging space and a reputation as an effective partner for brands and platforms to engage with. Before joining Holler, Sarah spent over 14 years driving growth at global creative agency, iris Worldwide, across Europe, Latin America and North America. While at iris, Sarah led and delivered innovative marketing strategies for a wide range of global consumer brands including Sony, Coty, Yahoo!, Jeep, Diageo, Philips and Reckitt Benckiser. Most recently, Sarah founded her own brand marketing consultancy, focusing on high-growth startups in the technology, consumer goods and brand services categories.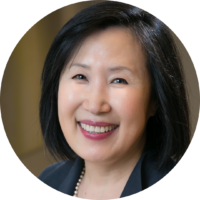 Young Mi Park, host
Young Mi Park's background spans three continents and diverse industries – consumer, education, government, advertising, media, and technology. She has held leadership roles with brands such as American Express, Burger King, and Levi Strauss; education companies, such as Sesame Workshop and Nations Academy; and technology and new ventures, such as Thevi and Starnex. She broke new ground in Korea as the third woman to become an advertising account executive and, later, the first woman to head a foreign industrial subsidiary. Young Mi was recognized by the Korean government and received four industry honors for her achievements. Today, she is a lecturer at Rutgers Business School and Columbia University and is also laying the groundwork for her third career.
Premier Partner: Greenbook

GreenBook is a media company that provides resources to market research, consumer insights and marketing professionals. Through resources such as IIeX Events, GRIT Reports, and other publications, webinars, the GreenBook Blog, and the GreenBook Directory, GreenBook provides the learning and inspiration insights leaders need to stay ahead of the curve.