Out With the Old, In With Inclusive Marketing: Insights for Authentic Representation of Your Company and Brand
Gone are the days of communities being satisfied with token gestures of diversity. Today's savvy consumers seek brands that convey the company's genuine voice, inclusive of representational stories. This means Chief Marketing Officers, Brand Strategists, and the like, need to identify concrete ways to create diverse storytelling reflective of their consumer base.
While 2020 has been a year of discussions about diversity, social justice, and equity in America, now is the time for businesses to move from a "Moment to a Movement" beyond initial displays of solidarity. This conversation was front and center during the AMA New York and madconNYC-hosted workshop entitled "How Inclusive Is Your Marketing." Moderated by Karen McFarlane, Founder and Chief Marketing Officer, Kaye Media Partners, and Managing Partner and CMO, LetterShop Media. Panelists included Leah Lattimore, Assistant Vice President for Inclusive Global Student Leadership and Engagement at New York University (NYU), Gary J. Nix, Founder and Chief Strategist at The BRANDarchist: strategy as a service, and Benjamin Smithee, CEO of The Smithee Group.  
Inclusive marketing, or marketing that creates visibility for all demographics, has been consciously practiced for some time. It is the growing intent from brands and companies to ensure they feature global voices, that represents the essential next step in the marketing lexicon. It comes down to the customer's brand experience, including intentional language and sentiment of content that secures consumer receptivity.
MARKETERS HAVE TO SEEK OUT DIVERSITY
As marketers, we may not reflect the community we are targeting in a campaign, but as leaders, it's essential to find creative ways to bring diverse voices to the forefront.  In Leah Lattimore's work, she indicated, "While I don't identify with all the identities in the groups I represent, I always include existing, on a rolling basis, those voices, so if I do have to address something in a quick way, I may not be able to pull together a focus group, 'cause that takes time, but if I have an advisory council, if I have community engagement, I can bring in those voices."  It's about integrating global voices into your company's business practices.
RELEVANCY IS A KEY VALUE PROPOSITION
Businesses are willing to invest in inclusivity, but they must ultimately understand their purpose hinges on whether they reflect their customer base. Panelist Benjamin Smithee suggested, "When businesses start to see value, which is measured by revenues and profitability, when they start to tie values and value back to relevance, that's where they're going to start to see these changes and really investing large amounts of money into these, not just from a singular campaign, not just from Nike doing a Colin Kaepernick campaign, but really culturally into the organization." Diversity should be a reflection of an organization's culture, but justifying its relevance from a revenue perspective makes a stronger case for internal transformation.
INCLUSION

TAKES TIME
Changing an organization's outlook on inclusive marketing and creating broad opportunities takes time.  Panelist Gary J. Nix stated, " There is no simple, flip the switch solution. It takes a lot of work, it takes a lot of time. In order to build what we're trying to build, we have to take down a lot of things that have been built and have been established for a long time."  Integrating inclusion into your company means looking at whether your systems align with your messaging, and unpacking what it will mean to have both synchronized. 
Now on Demand on AMA New York's website, the workshop can be summarized with a quote by author Henry David Thoreau and recited by Leah, "Go confidently in the direction of your dreams".  Leah went on to clarify, "So what is the dream, what is the vision, what is the goal that you are trying to create, and when you go confidently in that direction, you do the work that's necessary to ensure that you get there….What are the tools and resources you lean on when you want to advance something, and if you find yourself not utilizing those tools and those resources to advance DEI (Diversity, Equity, and Inclusion), I'm 'gonna ask whether or not that's a part of your dream."
After watching the discussion, what insights will you take back to your organization to support inclusive marketing integration into brands and campaigns?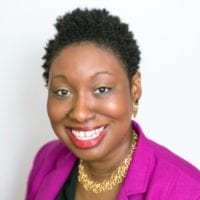 Kenyatta Skyles is a nonprofit professional with a background in marketing and sales.  She is a  digital marketing strategist with a passion for video content creation.   She is a volunteer for both AMA New York's Networking Events Committee and Programming Committee.  You can connect with Kenyatta on LinkedIn.