Resume and LinkedIn Profile Tips with Lisa Rangel
At AMA New York, we are committed to providing support and resources to help you effectively advance your career. For this reason, we have created this Ask Me Anything AMA New York initiative, so you can ask career expert Lisa Rangel any questions about your resume or LinkedIn profile.  Don't miss our LinkedIn Masterclass with Lisa on September 16 where she will share LinkedIn profile tips to land 6-figure jobs!
1. Who can participate and how?
This initiative is open to anyone who has a question about his/her resume or LinkedIn profile and would like our expert to provide an answer. Please fill out the form at the bottom of this page to submit your questions.
2. What type of questions can I ask?
Lisa will answer resume or LinkedIn profile-related questions in a 1-2 minute video. Please make sure to be very specific and provide context if needed. E.g. Should I include my current home address in the resume if I'm looking to relocate to a different city?
3. When and where will the answers be published?
We will upload a new video to our YouTube channel every other week starting on May 19, so make sure to subscribe and save this playlist to your library. We will also announce the video on our newsletter on the first and the third Wednesday of each month. And you can find the compilation of videos on this page.
4. How many questions can I ask?
We will select the most popular questions and Lisa will tackle one question per week on the first and the third Wednesday of the month.
5. What if I have a long question about LinkedIn?
If you have a long or complex question that can't be answered in less than 2 minutes, sign up for Lisa's daily email list and ask her directly by replying to your first email.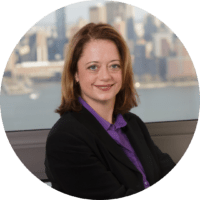 Lisa Rangel
Founder & Managing Director
ChameleonResumes
Lisa Rangel is the Founder and Managing Director of ChameleonResumes, the premier executive resume writing and job landing consulting firm named a Forbes Top 100 Career Website. She is a LinkedIn Profile and Executive Resume Writer, Job Landing Consultant, former 13-year Recruiter and a former paid moderator for LinkedIn's Premium Groups. Chameleon Resumes writes  high-caliber career marketing documents for senior-level job seekers that meet the needs of the prospective employers so they land 6- and 7-figure job interviews faster. 
She has been featured in Fortune, Inc., CNN Business, Fast Company, Business Insider, Forbes, LinkedIn, CNBC, Time Money, BBC, Newsweek, Crain's New York, Chicago Tribune, eFinancialCareers, CIO Magazine, Monster, US News & Scroll down to the bottom of this page to fill out the World Report, Good Morning America, Fox Business News, New York Post, and others.

ChameleonResumes.com is an executive LinkedIn profile and resume writing service that partners with executive professionals (C-level, VP, Director and Manager) to successfully navigate the job search process in today's challenging economic climate. Today's candidate can triumph in this marketplace with ChameleonResumes.com at their side armed with an interview-winning resume, keyword optimized LinkedIn profile, thorough interview preparation, top-notch compensation guidance, and effective LinkedIn job search and networking practices.

Premier Partner: Greenbook
GreenBook is a media company that provides resources to market research, consumer insights and marketing professionals. Through resources such as IIeX Events, GRIT Reports, and other publications, webinars, the GreenBook Blog, and the GreenBook Directory, GreenBook provides the learning and inspiration insights leaders need to stay ahead of the curve.